Exclusive
It's Party Time As Jack White and Karen Elson Announce They Are Divorcing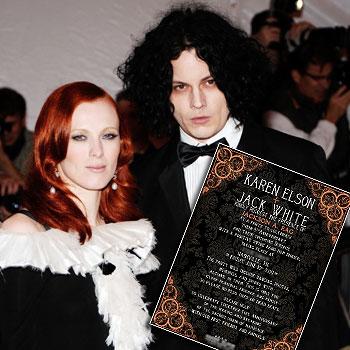 While most people commiserate when they split, Jack White and wife Karen Elson are turning the sad occasion into a celebration.
The couple announced in a joint statement on Friday that they are commemorating their sixth wedding anniversary in a very unconventional manner - by getting divorced.
Instead of crying over their lost love though, the rocker and his model wife are throwing a party in Nashville and inviting all their friends for a booze-up, and RadarOnline.com has an inside look at the invitation to the alternative event.
Article continues below advertisement
An official statement released by their spokesperson read: "Karen Elson and Jack White announce today that they are getting divorced.
"We remain dear and trusted friends and co-parents to our wonderful children Scarlett and Henry Lee. We feel so fortunate for the time we have shared and the time we will continue to spend both separately and together watching our children grow."
A representative for The White Stripes singer told RadarOnline.com, "The split was amicable."
With the official announcement dealt with, the couple got down to the fun bit, the party invitation!
"In honor of that time shared, we are throwing a divorce party," revealed the couple. "An evening together in Nashville to re-affirm our friendship and celebrate the past and future with close friends and family."
The black and bronze embossed invite, which is addressed to Jackson A. Rag, reveals that White and Elson are jointly hosting a party on Friday night "to celebrate their sixth anniversary and their upcoming divorce with a positive swing band hum dinger."
Article continues below advertisement
The bash, held in Nashville, Tennessee, where the couple live, is to, "celebrate together this anniversary and the making and breaking of the sacred union of marriage with our best friends and animals."
The invitation ended with details of the event and of course, dry wit. "The party will include dancing, photos, memories, and drinks with alcohol in them. This is for close personal friends and family, so please no plus ones or dead beats."
White, 35, met 32-year-old British model Elson when she appeared in the White Stripes music video for Blue Orchid and the pair wed in Manaus, Brazil in 2005.
Equally as off-beat as their current break-up, the wedding took place on a canoe on the Amazon River and was officiated by a shaman.
White obviously maintains a good relationship with his exes, he continued performing with first wife Meg White in The White Stripes band long after their divorce in 2000, and she even acted as the maid of honor when he wed Elson.
The musician recently disbanded from both The White Stripes and Meg, while Elson is an aspiring musician and owns a boutique in Nashville. The Sunday Times Rich List in the UK cited them as having a joint fortune of $37 million in 2005 and it is not known if they had a prenup.
RELATED STORIES: