VIDEO: Ice-T & Coco Join Reality TV Fray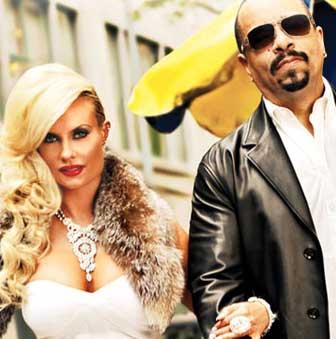 by RadarOnline.com Staff
Reality TV has taken us inside the homes of everyone from Ozzy & Sharon to Spencer & Heidi to Jon & Kate: Now, it's time for rapper-actor Ice-T and his buxom pop tart wife Coco to take center stage.
Their new E! reality series Ice Loves Coco premiered Sunday, and we've got all the details for you.
One thing we noticed was how domesticated Coco is, as the well-endowed 32-year-old pin-up called herself an "an old fashioned" wife, conflicting with her wild public image.
Article continues below advertisement
Of course, in addition to the old fashioned stuff, we also got to see Coco prancing around in a bikini, showing off her super-sexy body while tanning and working out.
Watch the video on RadarOnline.com
The episode also featured Coco and the 53-year-old Law & Order: SVU star -- who've been married ten years -- shopping at an upscale pet store and at a photo shoot.
Ice Loves Coco airs Sunday nights on E at 10:30/9:30c.