Exclusive
Hugh Hefner Lets Crystal Harris Keep Engagement Ring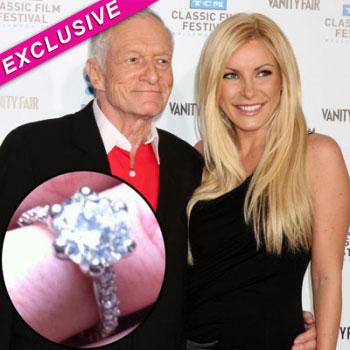 RadarOnline.com Staff Reporter
What a gentleman.
After calling off their wedding just five days before the big event and partying in Vegas the day of the cancelled wedding, Crystal Harris finally saw her ex-fiancé Hugh Hefner Sunday and did the right thing - returned her engagement ring.
But to her surprise, Hef let her keep the $90,000 3 carat diamond sparkler.
"It was the right thing to do," Crystal told RadarOnline.com exclusively about wanting to return the ring.
Article continues below advertisement
However, after her visit to the Playboy Mansion, where she returned the King Charles dog, Charlie, Hef told her she could keep the engagement ring, along with the Bentley he had given her too.
Holly Madison Tweets About Hef's Ex Crystal Harris
Hef seems to be handling the whole breakup well, and even Tweeted that it was for the best.
"After all is said & done, staying single is probably the best. I think I just missed a bullet."