Gay Rights Groups Investigating Tracy Morgan's Anti-Gay Rant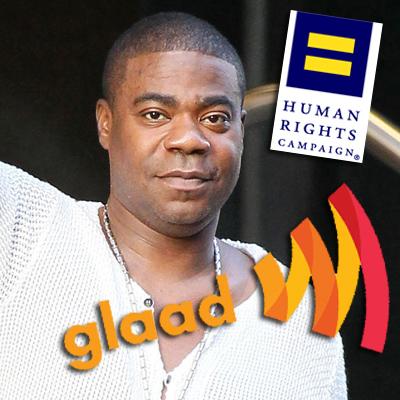 The powerful group GLAAD (The Gay & Lesbian Alliance Against Defamation) is investigating reports that 30 Rock star Tracy Morgan unleashed a vulgar anti-gay tirade during a stand-up show in Nashville, Tennessee last week.
In a statement Friday, GLAAD President Jarrett Barrios said: "Tracy Morgan's management needs to investigate these allegations and should they prove true, we call on him to remove these violently anti-gay remarks from his show and send a strong message that anti-gay violence is not something to joke about."
Article continues below advertisement
A spokesperson for the Human Rights Campaign said: "If these allegations are true, Tracy Morgan must immediately accept responsibility and apologize."
The gay advocacy organization Truth Wins Out is calling on Morgan to respond to the allegations and to apologize.
Its director of social media, Evan Hurst, said: 'It is disgraceful for any role model to inject such hatred into the discourse.
"The last year has seen far too many reports of gay or gay-perceived youths either attempting or completing suicide as a result of anti-gay bullying. If Tracy Morgan indeed did say these things, he needs to respond immediately with either an explanation or a contrite apology.
"Tracy Morgan needs to respond to these allegations. Comedians have long pushed the envelope in tackling controversial subjects. Indeed, it's part of their job description, and good comedians are able to do this and keep everybody laughing at the same time. However, abject hatred directed at vulnerable kids is not comedy, by anyone's definition. If these reports are true, we expect a full explanation and apology.'
Article continues below advertisement
As RadarOnline.com previously reported, a man who says he was in the audience at the Ryman Auditorium last Friday posted on Facebook comments allegedly made by the actor/comedian during his performance.
Kevin Rogers claims that Morgan said in his profanity-laced rant that homosexuality was a choice and that he would kill his son if he told him he were gay.
So far, Morgan has not yet commented on the reports of his alleged tirade.