Kanye West: 'Gold Diggin' B*tches Be Getting Pregnant On Purpose'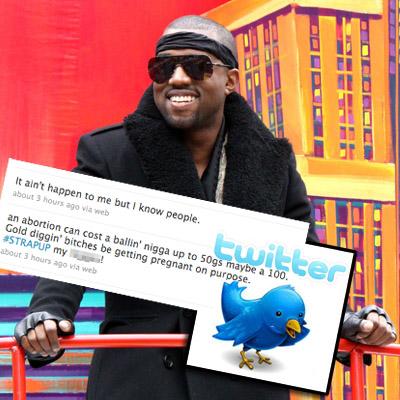 Gold diggers, abortions, baby mama drama -- Kanye West is never afraid to go there.
The rap star, who sang about such evils in his 2005 smash hit Gold Digger, sent out a controversial Tweet Wednesday implying there are women out there who intentionally get pregnant just to score a big payday when the man bribes them to get an abortion or, off child support.
He Tweeted: "an abortion can cost a ballin' n***a up to 50gs maybe a 100. Gold diggin' b*tches be getting pregnant on purpose. #STRAPUP my n***as!" he wrote, later adding, "It ain't happen to me but I know people."
Article continues below advertisement
PHOTOS: Irina Shayk-Stripped Down And Sexy!
The tweet echoes sentiments from his 2005 hit Gold Digger, in which he sang lyrics like:
"18 years, 18 years,
She got one of yo' kids, got you for 18 years,
I know somebody payin' child support for one of his kids,
His baby momma's car crib is bigger than his,
You will see him on TV, any given Sunday,
Win the Superbowl and drive off in a Hyundai."
RELATED STORIES: