Exclusive
George Clooney Did NOT Date Anthony Weiner's Wife!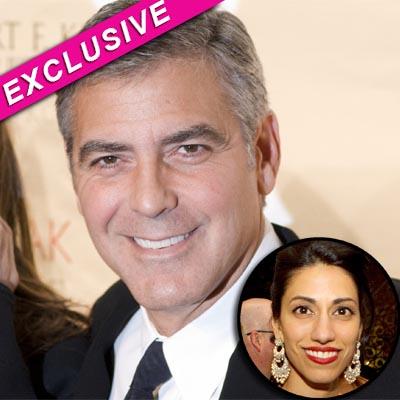 RadarOnline.com Staff Reporter
Did Anthony Weiner's wife Huma Abedin date Hollywood hunk George Clooney before she married her philandering husband?
Unfortunately for Huma -- no!
There have been multiple reports that Huma was "romanced" by the A-list leading man, and that George was at her "beck and call" but RadarOnline.com can exclusively reveal that just isn't true.
"He met her once at an event," Clooney's rep Stan Rosenfield told RadarOnline.com, shooting down the rumors.
Article continues below advertisement
And he made sure to let us know exactly what did NOT happen between the two.
"No dating, no phoning, no texting, no tweeting."
The news that Huma, 35, is pregnant with the couple's first child broke on Wednesday, and she is currently out of the country traveling with her boss, Secretary of State Hillary Clinton, while her husband is being pressured to step down from his congressional office.
Weinergate continued to build steam after the Democrat tearfully admitted that he had sent a lewd photo to a young woman via Twitter and that he had "inappropriate" relationships with at least six other women.
Style Gallery: Evolution of George Clooney
RadarOnline.com and Star magazine exclusively reported that Weiner sent over 200 sexually explicit messages through Facebook to 40-year-old Vegas blackjack dealer Lisa Weiss while he was married to Huma.
"I'm deeply sorry for the pain this has caused my wife," Wiener, 46, said at the press conference June 6. He said they had no intention of splitting up. "I love my wife very much. We've been through a great deal together and will weather this."