Exclusive
Production Company Takes No Responsibility For David Carradine's Bizarre Death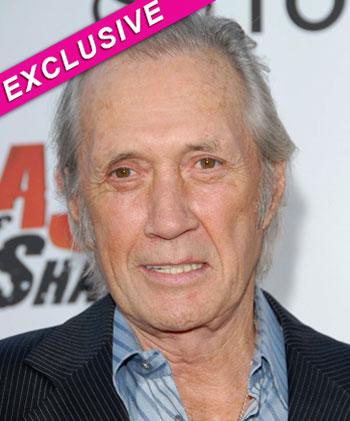 By Amber Goodhand - RadarOnline.com Staff Reporter
Actor David Carradine's widow claims the production company behind his last film is at fault for the late actor's bizarre death, but they are claiming no responsibility.
In legal papers exclusively obtained by RadarOnline.com, French production company MK2 filed a motion with the Los Angeles Superior Court demanding the case does not go to trial.
Carradine, 72, had been working on MK2's Stretch for just one week before he was found dead in the closet of his Thai hotel suite on June 4, 2009.
Article continues below advertisement
The Kill Bill star's wife Annie Bierman claimed her husband was murdered, but it was ruled that he actually died from suffocation while engaging in the sexual act of autoerotic asphyxiation.
Bierman filed a lawsuit last year against MK2 claiming the assistant hired by the production company failed to pick Carradine up for dinner with the director.
But in MK2's June 8 response filing, which they call an "unfortunate lawsuit," they claim nobody was required to look after the actor 24 hours a day.
"Mr. Carradine died in the early morning hours of June 4, 2009, while he was off duty and doing something unrelated to his acting contract with MK2," the production company's documents state.
"There is no logical connection between not getting taken out to dinner one day and accidentally suffocating yourself while engaging in autoerotic asphyxiation the next."
Attorneys for MK2 detail the hours that led up to discovering Carradine's body, stating that after a full day of shooting, director Charles de Meaux asked the Kung Fu star to join him for dinner at the hotel.
Article continues below advertisement
Production Company Request 'Unfortunate Lawsuit' be Dismissed - Read The Documents
After the director was unable to reach Carradine for dinner successfully, he had a crew member assistant try to locate him.
"(The assistant) had not spoken to Carradine since he dropped him at his hotel room earlier that evening, and he related to (the director) that David Carradine had complained that he was tired due to jet lag and afraid he would fall asleep if he returned to his hotel room,'' the papers obtained by RadarOnline.com state.
"The assistant informed Mr. de Meaux that he (the assistant) had been unable to find Mr. Carradine at the hotel and believed Mr. Carradine had gone to sleep in his room and that he would therefore not be joining them for dinner after all."
David Carradine's Grave - See The Photos
Carradine was found dead the next morning in his hotel room when a crew member was sent to get him for a shoot.
MK2 notes that Carradine suffocated during the early morning hours, when his would-be dinner companions were in their own hotel beds sleeping.
Article continues below advertisement