Up Close & Personal With David Marshall Grant – On His Birthday!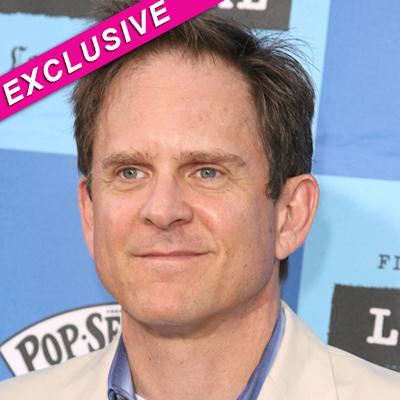 You may know him from his Tony nominated role in the groundbreaking Broadway play Angels in America -- or from his many guest starring roles on TV-- or as Anne Hathaway's good hearted dad in The Devil Wears Prada.
David Marshall Grant -- a favorite of RadarOnline.com's -- has been entertaining and moving audiences for decades, both in front of and behind the camera.
So, in honor of his birthday on Tuesday, June 21, RadarOnline.com is profiling this multi-talented and boyishly handsome actor/playwright/and TV boss about his celebrated career, the recent cancellation of ABC's Brothers & Sisters for which he served as 'Showrunner', and why he calls Glee a "game changer."
Article continues below advertisement
RadarOnline.com: First, Happy Birthday! How do you plan to celebrate?
David: By trying not to think about it.
RadarOnline.com: You grew up in Connecticut and your folks were both physicians. Any pressure to follow in their footsteps?
David: Not at all. They were always supportive of my acting. And I went to the Yale School of Drama. They could tell their friends I was going to Yale and skip the drama part if they wanted to.
RadarOnline.com: I will never forget seeing the original Broadway production of Tony Kushner's Angels in America. It was truly electrifying. For your portrayal of Joe Pitt in that production, you received a 1994 Tony Award nomination. What was that experience like?
David: It impossible to sum up my feelings about that. It was both personally and professionally an astonishing experience. The play is a masterpiece and to have been a part of it at all is something I will always be grateful for. Joe Pitt was a tortured man. His bad behavior came out of a very human need to do the right thing. He just was being pulled in different directions as he tried to understand what good meant. I was sort of at the end of my own journey toward self acceptance when I got the part, so I identified with him a lot. The cast was out of heaven, and we all just savored every last minute of the run.
Article continues below advertisement
RadarOnline.com: You also appeared on the ABC television drama thirtysomething in which you played the gay character Russell. In 1989, in the third season of the show, your character was shown lying in bed with another man. At the time, just the subtle suggestion of sex between two men was groundbreaking and it ignited a firestorm. Sponsors pulled their ads, and the episode was not shown during summer reruns. What has your reaction?
David: I wasn't surprised, but felt kind of proud. It always shocks me people's bias and hate. I was closeted at the time, so it was like my inner gay child was very happy with me.
RadarOnline.com: You're openly gay now, but at any time in your career did people close to you advise you not to come out -- that it could hurt your career?
David: My friends felt my pain. it was a tough choice, it can limit your choices as an actor. My agents never brought it up because I hadn't told them I was gay. The blind leading the blind.
Article continues below advertisement
RadarOnline.com: Who don't you think more gay actors don't come out? Since they are in the public eye, do they have a special responsibility to come out and be role models for LGBT youth -- or do you see it purely as a personal decision?
David: They don't come out because it's still a problem for actors. You are type cast in this business and coming out can limit what you play. I don't think actors have a responsibility to be role models. If that were the case then why stop at coming out? Being a model citizen isn't a prerequisite for the job. And anyway, if you force someone to do the right thing, it's not the right thing anymore. That said, I ultimately think you can't excel in anything if you're not honest about who you are. So, a gay actor is kind of between a rock and a hard place (pardon the expression) I finally decided to be who I was and let the chips fall where they may. The irony is my career continued to grow. Maybe not in the way I expected but that's the beauty of life, you can't control it completely. Lastly, times are changing. Look at Nell Patrick Harris. He did it. He is a star and gay and playing a straight dude. The first gay movie star is right around the corner too. If I was young and hot I would be looking to be that guy.
RadarOnline.com: In addition to acting, you also served as a boss on ABC's drama Brothers & Sisters, serving at various times as a screenwriter, story editor and then as Head Show Runner. Why did you make the decision to also be behind-the-camera?
David: I started to write as an actor. You have a lot of time on your hands waiting to get a job or in your trailer waiting to act. It was just an organic transition. Everything I learned as an actor I use as a writer and producer.
Article continues below advertisement
RadarOnline.com: While it's not unusual for a TV show to have a single sidekick gay character in it, Brothers & Sisters had three regular characters that were fully formed people, including couple Kevin and Scotty. Did the show ever have to fight to keep any intimate scenes between them in the show, or was ABC supportive?
David: ABC should get a LAMDA award. Thirty something, Kev and Scotty. Not to mention Uncle Saul and Richard Chamberlain face. Come on, ABC is the best.
RadarOnline.com: You must feel very gratified in being in a position to present complex and fully formed gay characters on television.
David: Yes. As Harvey Milk said, coming out is the most important thing we can do. I'm glad to be a part of TV coming out.
RadarOnline.com: What's your take on Glee, which features not just gay character, but young gay characters? Like thirtysomething, do you see Glee also as groundbreaking?
Article continues below advertisement
David: Glee is a game changer. The epic battle we face as gay people is really waged high school. To see gay kids be who they are, date, love, express themselves at that age... it's the most important thing you can show. I never had that. Not just because I can't sing but because of the times I grew up in. High school was where I first learned to hide who I was. To hate myself. Glee is the answer.
RadarOnline.com: As most fans of Brothers & Sisters probably know by now, last month, ABC sadly canceled the show. What was the cast's reaction? Were you surprised or did you see it coming?
David: We knew we were on the bubble. It was sad to end it, but it was a long run.
RadarOnline.com: Is there any chance that ABC will order a one or two-hour Brothers & Sisters final special episode so any loose ends in the storyline can be wrapped up?
David: I don't think so. And I kind of liked the way it ended. Nora is finally in love, Sarah gets married to Luc, Kevin and Scotty have a family with two kids, Justin is about to move on, Tommy already has, and Kitty is pregnant and in love. Not bad for a family that had its share of problems over the last five years.
Article continues below advertisement
RadarOnline.com: In addition to your TV and stage work, in 2006, you nabbed a plum film role -- playing Anne Hathaway's dad in the wickedly funny The Devil Wears Prada. That must have been a lot of fun.
David: Totally.
RadarOnline.com: I'd imagine as Anne's 'honorary dad', you must have been extremely proud when she co-hosted the Oscars, making her the youngest host in Oscar history.
David: She had to be the youngest if she was my daughter, right?
RadarOnline.com: So what's next for you?
David: I am working on Smash on NBC. We're putting on a Broadway musical. What more could a gay boy want...
Check out David's professional credits on IMDB