Chicago Singer /Songwriter's Tune, 'You Smell Like Dinner', To Be Featured On True Blood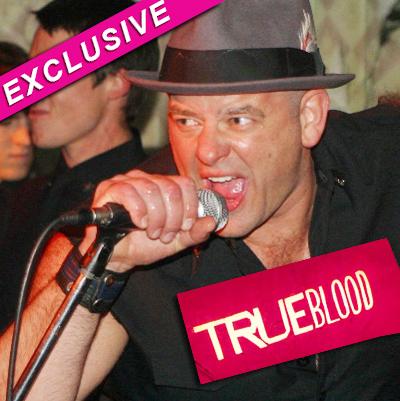 Forget the Friends theme, if ever a song was tailor-made for a TV show -- this is it!
When one of the writers for HBO's sexy vampire drama True Blood came across the deliciously subversive song You Smell Like Dinner, he knew he had to feature it for his show.
True Blood tracked down the man behind the music, Chicago-based singer/songwriter John Kamys -- who also goes by the name Jinx Titanic -- who happened to be traveling around the world at the time.
Article continues below advertisement
The song will be featured in the second episode of True Blood's fourth season, which premieres on Sunday, June 26.
In fact, the producers loved the song title so much, they even named the episode -- airing July 3-- after it!
RadarOnline.com caught up with Kamys -- a prolific songwriter and singer whose work ranges from classical music to punk rock to country -- now back at his home on Chicago's Gold Coast.
RadarOnline.com: Your song, You Smell Like Dinner, is a perfect fit for True Blood. Did you write the song specifically for the show?
John: I wish I could say, 'Yes,' but You Smell Like Dinner was written a few years before True Blood premiered. But hey, who knows? Maybe something supernatural occurred. In which case, yes, I wrote the song specifically for the show.
RadarOnline.com: How did the writer of True Blood find the sing then?
Article continues below advertisement
John: I don't really know for sure, but my band Jinx Titanic & Super 8 C*m Shot has been active for almost ten years now. We tour, release albums, and have a bit of a reputation for catchy songs and outrageous stage shows. Sometimes word gets around about us, and sometimes lucky things happen. Who knows how it happened, really ... I'd like to think Franklin found us. I was crazy about Franklin. I hated to see him get blown to slop last season.
RadarOnline.com: At the time True Blood contacted you, you were traveling around the world: Since you're generally a Chicago-based artist, how did they track you down, and what was your reaction?
John: It was simple really. I'm not a cut-myself-off-from-civilization traveler. I never turn off the phone. Alyson from GO Music, the company that supervises music for True Blood, called the number on our website and I answered. But there is a fun synchronistic side to the story. Earlier that same day, one of the band's fans posted a link on our Facebook page to a spoiler alert for True Blood season four. It mentioned an episode titled You Smell Like Dinner. He also posted the question, "Are you providing music for the episode?" I thought, 'Wow, this is a strange coincidence' -- I wrote and recorded a song titled You Smell Like Dinner and if I don't have anything to do with this, perhaps I should. So I immediately started making calls to anyone I thought might have an in to someone at the show, but unnecessarily so, because not long into my then-formulating plan to pitch, I got the call from Alyson, she said she had been trying to contact me via e-mail for a couple weeks, and that the writer requested the song and wanted to know if it was available. I said yes while thinking, 'Is it available?' Who in their right mind would say no?
Article continues below advertisement
My reaction? After calmly getting off the phone, I made several of those puerile whoo-hoo noises, high-fived myself with a big YES and did one of those stupid ape-man happy-dances around the room.
RadarOnline.com: You Smell Like Dinner is such a wonderfully crazy name for a song, what inspired it?
John: I'm rather simple. Food … sex … food … sex … sometimes I mix the two up.
RadarOnline.com: Quote some of the lyrics for me.
John: Here's verse two, though I think it works better if you sing it:
"A lot of hotties wear that fine cologne,
I let them walk on by, I leave that scent alone,
See I'm a hungry, hungry man with an appetite,
I see a big rump roast I want to take a bite
When it comes to eating out, I'm no beginner and
Umm baby you smell like dinner."
Not exactly Shakespeare, is it?!? (laughing)
You Smell Like Dinner promo.
Article continues below advertisement
RadarOnline.com: I understand the writers loved the song title so much, they are actually titling the second episode of the new season, You Smell Like Dinner. You must be thrilled.
John: I am howling-at-the moon thrilled, especially because I genuinely enjoy the show and admire its blood and gutsy political perspective. It's quite exciting to know that I will have this affiliation for … um … eternity.
RadarOnline.com: Is the song available for purchase?
John: YES! It is available for as many purchases as possible! You can get it at iTunes, Amazon.com and most other digital distributors.
RadarOnline.com: Is this the first time your music has been featured in a television show? Do you hope to write more music for TV and perhaps film?
John: I've had the good fortune to have songs placed in several television shows including HBO's Cathouse and Best Of Cathouse, Showtime's Look, and also in several seasons of MTV's The Real World. And yes, I hope I am able to continue. I love to work, to write, to sing, to play out, and I never say no. TV, Film, Theater, Student Projects, Industrials, Commercials, Multi-Media, Games, Spec. It's all great in my book. Bring it on!
Article continues below advertisement
RadarOnline.com: You've been on the Chicago music scene for years. Tell me about your music. Describe the sound.
John: "Years" makes me seem so old, but yes, it has been years -- years and years -- actually 17 so far. My first professional -- as in paid-for -- writing was for theater, which was invaluable in terms of experience and I did that almost exclusively for five or six of those years. It taught me how to work quickly and move easily between historical periods and genres. Theater is collaborative, so you have to be flexible, able to turn a director's idea into something tangible, and you need to know when to fight for something and when to concede. You learn about serving a common goal, often a singular perspective. And to that, and very likely because of that, I have developed into a form-follows-function writer: the function being the idea, mood, or sentiment I wish to convey. So I move between lyrical and musical styles, and genres, and experiment whenever necessary. If there is a "sound" so to speak, I hope it is simply truthful.
RadarOnline.com: Tell me about your alter-ego Jinx Titanic. How did you create him?
John: Jinx? - He's a nice guy, good and bad in a good way -- a smart ass, a loudmouth -- who comes out at night and raises hell. He grew out of a nickname: You see, I have a tendency to knock stuff over, break things, unintentionally mess stuff up. Not on purpose or with malicious intent, it's just in my ... I mean his -- let's say, 'Our' -- nature. Anyway, it's good to keep him on stage where he can stomp around and bust-up anything he wants.
Article continues below advertisement
RadarOnline.com: In addition to You Smell Like Dinner, you have some other interesting titles to your songs. What are some of your favorites?
John: That's a difficult question because I'm very fond of everything that doesn't end up in the trash-can, especially anything that actually gets produced. The raunchy ones are fun, but I don't know if you can print the titles. If not, maybe you can just direct folks to the web site.
RadarOnline.com: Even though some of your music has an edgy & punk-rock feel, it may surprise some people to hear that you, and several members of your band, are classically trained.
John: When working with other people, I always hope that I am the least intelligent and worst musician in the room. Things always work out better that way. So I am always looking to work with the best possible people -- regardless of where, or how, they got their amazingness. In general, I think any working musician should know as much as possible about the field. There is always something new, or old, to appreciate, and there are many paths to how one gains both experience and knowledge.
Article continues below advertisement
RadarOnline.com: Tell me more about your formal training, and your work with the legendary Goodman Theatre in Chicago.
John: I've written songs since I was very young ... banging on the piano came naturally. I come from one of those super-cliché hard-core religious backgrounds, you know, grew up singing in the church choir and freaking out about going to hell ... yawn. I studied piano privately with an old-school child-torturer. If you missed a note, she smacked your fingers hard onto the correct piano keys. I was tormented into rebellion, discovered punk rock, and eventually found a way for the Ramones and Bach to co-exist. I started writing music for theater in 1994 in Chicago for a company called Teatro Vista. The second show I did with them was a co-production with the Goodman Theatre. It was a big jump for me in a very short time -- from a small black-box space in the attic of a church to one of the premiere regional theaters in the country. The play, José Rivera's Cloud Tectonics, directed by Henry Godinez was a huge success and very well-reviewed. And thus began my relationship with The Goodman. I went on to several collaborations there, including four years as composer and music director for their annual production of A Christmas Carol. It's quite an inspiring place to work, and I hope to do something there again in the near future.
RadarOnline.com: Do you have plans to put out a new CD and to tour again?
John: Yes and yes. I am working on a sooped-up punked-out psycho-billy gospel album. If you want to get an idea of what to expect, you can check out the Jinx Titanic Trouble of the World video. The song is a remake of a traditional gospel song that was made popular by Mahalia Jackson. We've played it live for some time and included it on Stuporstardom! It is a direction I am interested in pursuing further. And I'll be on the road this summer, starting with Toronto in July.