LIVE STREAM: Testimony Resumes In Casey Anthony Trial –Watch It Here Live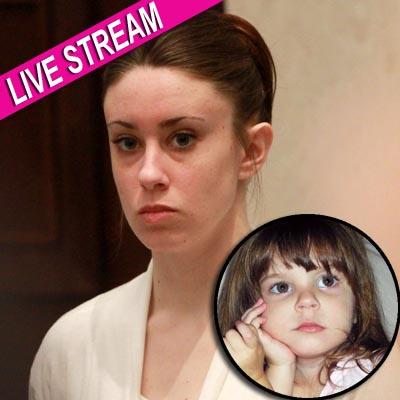 by RadarOnline.com Staff
UPDATE: 12:05 pm ET -- Court has ended early for the day because the prosecution's next witness won't arrive in Orlando until late Tuesday morning.
The Casey Anthony murder trial enters its 28th day in central Florida on Monday with the prosecution expected to wrap up its case this week before the defense takes its turn. Once again, RadarOnline.com is live streaming the proceedings.
In wake of last week's graphic testimony in which dead photos of 2-year-old Caylee Anthony were shown in court, this week, the prosecution is expected to call a scientist specializing in plant growth to help establish the time-line of when the girl's body was dumped in the woods.
Article continues below advertisement
Prosecutors believe the Orlando, Florida woman suffocated Caylee with duct tape and then hid her body. The defense contends the girl drowned in her grandparents' swimming pool, and that Casey's father, George Anthony, forced her into a cover up, partly because he had sexually abused her since she was a child.
Caylee was last seen on June 16, 2008; her body was found six months later.
Casey, 25, is charged with first-degree murder, aggravated child abuse, aggravated manslaughter of a child and four counts of lying to law enforcement.