Exclusive
LIVE STREAM: Testimony Resumes In Casey Anthony Trial - Watch It Here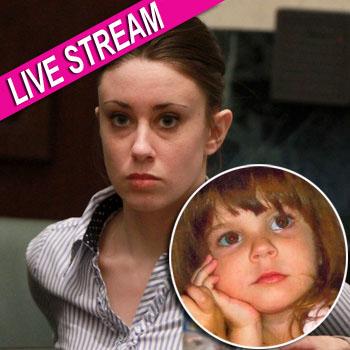 Radar Staff Reporter
Testimony resumed Wednesday in the Casey Anthony murder trial, and once again, RadarOnline.com is live streaming the proceddings.
During Tuesday's testimony, Casey's defense attorney argued in an Orlando, Fl. courtroom on that crime scene evidence had been tampered with.
Anthony's attorney, Jose Baez, suggested that Orange County Sheriff's Office CSI tech Geraldo Bloise dried out garbage found in the trunk of Anthony's car, altering its state and creating a foul odor — an odor which Prosecutors contend was caused by a decomposing body.
Article continues below advertisement
"You had no idea it would alter significant items in this case?" Baez asked Bloise during the trial.
Bloise said he was simply following protocol and that drying out the 37 items found in the trunk would preserve them and make them easier to examine in the future. "If we don't dry them out, they could grow moldy," Bloise said.
The prosecution maintains that Casey killed her two-year-old daughter
in 2008 and hid her body in the trunk of her car for a period of time before disposing of it.
Prosecutor Jeff Ashton had Oak Ridge National Laboratory researcher Dr. Arpad Vass called back to the stand. Vass testified on Monday, using a new method, that an air sample taken from Anthony's trunk detected human decomposition.
Ashton showed Vass the incorrect can containing the odor during Monday's testimony, and called on him Tuesday in order to clarify the mistake.
Baez pounced on the opportunity to point out the error.
Article continues below advertisement
"You are not accustomed to handling evidence, are you?" Baez asked Vass.
"No. We're not a forensic lab, so we don't handle evidence all that frequently," Vass replied.
The defense then called Dr. Michael Rickenbach to the stand, who is a forensic chemist for the FBI, and got him to admit that the chloroform found in the trunk of Anthony's car could have been from cleaning products, as opposed to Caylee's decomposed body as the prosecution argues.