Exclusive
Casey Anthony Cries While Hearing Caylee's Bones Were Chewed By Animals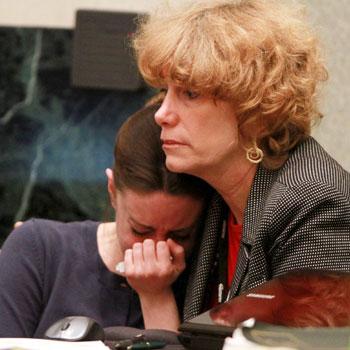 RadarOnline.com Staff Reporter
Casey Anthony broke down in tears during another day of shocking testimony in the murder trial of her 2-year-old daughter when she heard that Caylee's bones had been chewed on by wild animals in the woods.
John Schultz, a University of Central Florida forensic anthropology professor, told the jury that two large leg bones that were recovered had "actually been chewed on by animals." Casey burst into tears as she heard this testimony. She was visibly shaken and grabbed tissues and wiped her eyes and face while shaking her head back and forth. She was comforted by one of her defense attorneys.
Article continues below advertisement
Judge Belvin Perry ended the trial early on Thursday after Casey became "ill," following the display of gruesome photos of her daughter's skull that was found in December 2008. She has cried through the last few days, never looking up at the evidence photos and keeping her head bowed.
Casey's parents George and Cindy left the courtroom on Thursday before the graphic photos were displayed.
The jury was shown the photos but the Judge would not release them to the media until the image of the skull was blurred out.
Schultz also described the condition of Caylee's remains: "These bones were completely dry. There was no decomposition odor."
After initially reporting her daughter as having been kidnapped, Casey now contends that the little girl drowned accidentally in the family's swimming pool.
But, Dr. Jan Garavaglia, the Orange County chief medical examiner and TV show host of Dr. G: Medical Examiner, gave the bombshell testimony that Caylee had to have been murdered.
MORE ON:
Judge Belvin Perry
Article continues below advertisement
"There is no other logical conclusion," Garavaglia said, although she admitted that she couldn't determine the cause of death from just the bones found in the woods, but she reached the conclusion that she ws murdered based on the discovery of duct tape wrapped around the skull.
Her testimony was aggressively questioned by the defense, who said, "you don't know how she died. You can't say for sure."
Dr. Garavaglia quickly answered back: "There's the fact that she was tossed aside to rot. There's the fact that her death wasn't reported. Accidental deaths are reported unless there is a reason for it not to be." She also said that numerous studies showed that accidental drowning are reported to authorities "100 per cent of the time."
Casey could face the death penalty if convicted of her daughter's murder.