Exclusive
PHOTOS: Casey Anthony And Her Daughter Caylee Smiling Before Her Death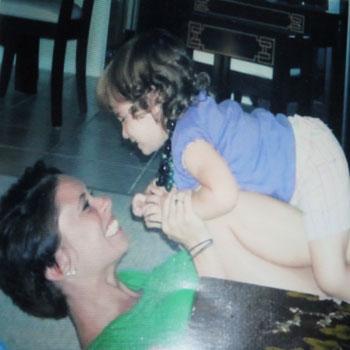 RadarOnline.com Staff Reporter
As the prosecution wraps up their murder case against Casey Anthony, prosecutors submitted more photos into evidence Tuesday, showing the smiling mother playing with her daughter before her death.
The new photos also include a picture of Caylee by herself smiling and wearing a little dress as well as the heart shaped sticker sheet that prosecutors say the sticker was from that was placed on the duct tape found on Caylee's remains.
Article continues below advertisement
Also, a witness gave shocking testimony about a tattoo the young mother got just weeks after her daughter died.
Bobby Williams, a tattoo artist, said that Casey, 25, had the tattoo "Bella Vita" put on her back a few weeks after her little daughter Caylee went missing. Bella Vita means "Beautiful Life" in Italian.
On the witness stand Williams said that Casey didn't mention her daughter until she made a second appointment to bring another friend in to get another tattoo. Williams said Casey told him Caylee would be at the appointment but then said that she was with the nanny at the time.
The prosecution has presented evidence that the nanny never actually existed.
Casey's mother Cindy was called to the stand again and for the first time during the trial she tried to directly address her daughter. As she left the witness stand she mouthed the words "I love you." Casey sat stone-faced and didn't respond to her mother.
The prosecution plans to present two more pieces of evidence Wednesday and then rest it's case. Casey's defense will then call their witnesses, and perhaps present evidence to attempt to support their claim that Caylee was not murdered but drowned in the family pool on June 16 and Casey's dad, George, helped her cover-up the death.