LIVE STREAM: Defense Winding Down Its Case In Casey Anthony Trial – Watch It Live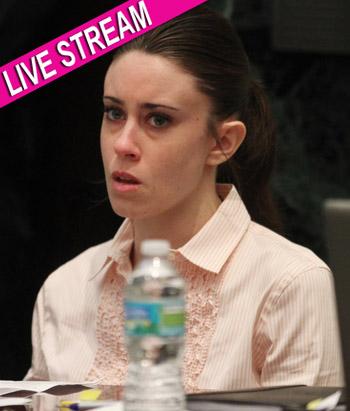 by RadarOnline.com Staff
UPDATE: Casey Anthony will not testify. It was her decision.
The trial of Casey Anthony kicked off with a bombshell Thursday morning with the testimony of George Anthony's alleged mistress, Krystal Holloway, and RadarOnline.com is live streaming the proceedings, as the defense winds down its case.
On the stand, Holloway contradicted George's earlier testimony that they were not romantically involved. She said they were in fact "intimate." In another bombshell, Holloway said George told her, during the time that Casey was missing, that Casey's disappearance was "an accident that snowballed out of control."
Article continues below advertisement
Holloway also testified that police approached her and asked her if she had had a sexual relationship with George. She said they had private text messages between the two, and that she did admit to the affair.
She also said that she was in another relationship when she was seeing George. At times during her testimony, she cried and wiped away tears.
Holloway said that George did not tell her any specifics about what had happened to Casey. On the stand, she read from a statement, she gave police. In the statement, she said George told her at her home: "I really believe that it was an accident. It just went wrong, and she tried to cover it up."
After Holloway finished her testimony, the judge made an important statement: he told the jury that if they consider Holloway to be a credible witness, they could only use her testimony to judge George Anthony's credibility from his earlier testimony; the judge told the jury they could not use Holloway's testimony to determine Casey's guilt or innocence.
The defense then called George Anthony and then Cindy Anthony back to the stand and questioned them about the death of their dog Bo.
Article continues below advertisement
Specifically, the defense asked them if when they buried their dog in the backyard, if they used a plastic bag and duct tape. (Prosecutors have maintained that Caylee was suffocated with duct tape).
Casey brother Lee was then called to the stand and was questioned about the death of the family's other pets and the manner in which they were buried.
Evidence Photos Introduced Into Casey Anthony Murder - See The Photos
The defense has said it could call its last witnesses Thursday. If that does happen, the case could go to the jury this weekend or early next week.
The prosecution claims that Casey murdered her daughter Caylee Marie on June 16, 2008 and lied about it for months. Her defense team says Caylee accidentally drowned in the family pool and Casey's father George helped her cover up the child's death. If she is convicted of first degree murder she may be facing the death penalty.