Exclusive
Camille Grammer Vows To 'Fight For What's Best' For Her Children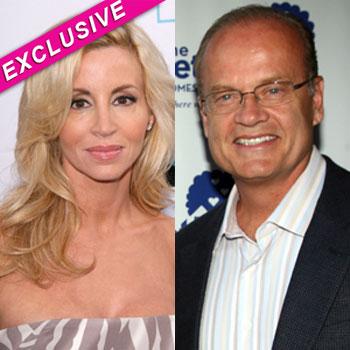 Camille Grammer has vowed to "fight for what's best" for her two children as her custody battle with ex-husband Kelsey Grammer heats up.
In an exclusive interview with RadarOnline.com the Real Housewives star said: "I love my two children more than anything. I will fight for what's best for them. For me, it's important they have consistency and stability in their lives."
Article continues below advertisement
Camille filed legal docs Thursday requesting primary custody of her children Jude and Mason.
Kelsey filed his own papers several weeks ago asking for primary custody of the kids, but Camille has made it clear in her filing that she believes the kids should stay with her.
The Real Housewives star also asserts that Kelsey is just trying to make her look bad in the press and claims that their son Jude had to repeat kindergarten twice!
The legal docs state: "Camille Grammer contends that this order to show cause was not filed in good faith and was done in order to create a false impression to the media and to wrongfully disparage Camille Grammer in the media."
Camille also takes Kelsey to task for not residing in California, where she is based, claiming it is affecting Jude's education.
"The parties' son, Jude, has repeated kindergarten twice," the documents state. "He is now working with tutors so that he can enter first grade at a public elementary school beginning in the Fall of 2011.
Article continues below advertisement