Exclusive
Legendary Sax Player Clarence Clemons In 'Responsive And Stable Condition' Following Stroke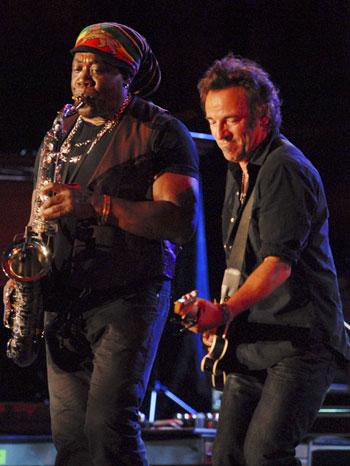 RadarOnline.com Staff Reporter
Legendary E Street Band sax player Clarence Clemons is in 'responsive and stable condition' following his stroke, RadarOnline.com has learned.
The 69-year-old was hospitalized in Florida after being struck down by the stroke which reportedly required two brain surgeries.
But the E Street Band's fan website Backstreets.com has now given-out a more hopeful statement :
Article continues below advertisement
"MIRACLES ARE HAPPENING" The latest out of Florida has Clarence Clemons in better condition than anyone expected, a close friend tells Backstreets: "Yesterday, it did not look good at all. Today... miracles are happening. His vital signs are improving. He's responsive. His eyes are welling up when we're talking to him. He was paralyzed on his left side, but now he's squeezing with his left hand. This is the best news we've heard since the stroke happened — it's nothing short of miraculous. The next five days will still be critical. But he's a fighter."
Lady Gaga, who recently collaborated with Clemons on her new track Edge Of Glory from Born This Way also offered a message of support to him on her Twitter earlier today.
She wrote: "Little monsters, my very close friend +musician on The Edge of Glory, Clarence Clemons is very sick. Can we all make some get well videos?
Clemons -- best known as 'The Big Man' in Bruce Springsteen's E Street Band -- suffered the stroke Sunday at his home in Florida, according to showbiz411.com, which first broke the sad news.
Article continues below advertisement
The famous musician has had a string of health issues over the past decade, and in 2010, he had both knees replaced and spinal fusion surgery.
Clemons last performed with Bruce Springsteen and the E Street Band last December at Asbury Park's Carousel House for a special broadcast for the web.
He had been scheduled to perform The Star Spangled Banner at Game 2 of the NBA finals in Miami last week, but he cancelled at the very last minute due to a hand injury and watched the game from the stands.