PHOTOS & VIDEO: The Book of Mormon Dominates 65th Tony Awards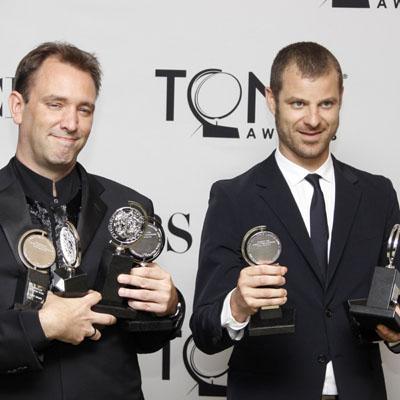 by RadarOnline.com Staff
As expected, The Book of Mormon -- the brainchild of South Park's Matt Stone and Trey Parker -- was the big winner at Sunday's 65th Annual Tony Awards from New York City, capturing nine awards on the evening, including best musical.
Among the honors the religious-themed comedy received: best direction, score, book, featured actress Nikki M. James, orchestration, sound design, lighting design and scenic design of a musical.
Article continues below advertisement
The musical, which garnered a record 14 nominations, was such a shoo-in, presenter Chris Rock put it all in perspective prior to opening the envelope to reveal the year's best musical.
Read the full list of Tony Award nominees
"We know what the best musical is," Rock said. "It's such a waste of time -- it's like taking a hooker to dinner!"
After winning the night's biggest prize, Parker and Stone -- the duo behind South Park and Team America: World Police -- thanked Mormon church founder Joseph Smith.
"The night would be a big disappointment if we didn't thank our co-writer who passed away, Mr. Joseph Smith, the founder of the Mormon religion," Parker said. "He couldn't be here tonight, but you did it Joseph.
Host Neil Patrick Harris got in on the night's theme as well, joking that The Book Of Mormon star Andrew Rannells sang "I Believe", and he landed it so well, now he's prominent Mormon politician Mitt Romney's VP candidate!"
Article continues below advertisement
Harris hysterically opened the night singing "Broadway isn't just for gays anymore!" before pointing out a number of straight personalities in the audience (Brooke Shields, Steven Colbert, Angela Lansbury).
Elsewhere, World War I-themed musical War Horse racked up five awards, including best play, while The Normal Heart and Anything Goes won three apiece.