Exclusive
Progress Being Made In Arnold Schwarzenegger & Maria Shriver Divorce Settlement Talks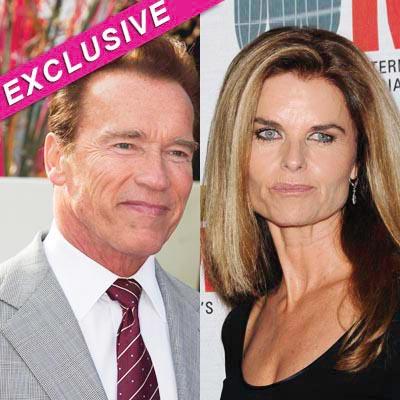 Even though Arnold Schwarzenegger and Maria Shriver haven't formally filed for divorce, settlement talks have commenced, and progress is being made, RadarOnline.com is exclusively reporting.
The Kennedy family icon is actively involved with every element of her pending divorce, a source close to the situation tells us.
EXCLUSIVE: Arnold & The Stripper
"Maria is extremely bright, and trusts her lawyer, Laura Wasser," the source shares. "Maria wants to ensure that she gets a fair settlement and that her children's future is secure, that is all she cares about, period.
Article continues below advertisement
"Maria has already begun to move on from her failed marriage. She and Arnold do talk, they have to -- they have four children together.
"But, Maria has made it clear to Arnold that there is no chance at a reconciliation. Arnold finally seems to be accepting this, but he doesn't like it," the insider says.
Schwarzenegger's estimated net worth is around $300 million dollars, but Maria has told her attorney to keep the costs down.
"Maria has seen plenty of lawyers in Hollywood get very, very rich from bitter divorce battles," the source tells RadarOnline.com. "And she is determined to not let that happen with her. Maria is literally tracking every dollar that is being spent on the divorce.
"Maria will be asking Arnold to pay for her attorney's fees, and at this point, his lawyer, Bob Kaufman is agreeable to that," the source reveals.
Article continues below advertisement
As for when the former power couple will formally file for divorce, we are told: "There just isn't a rush to file. Maria and Arnold are separated, and they both have excellent lawyers.
"It's very likely that they will iron out a divorce settlement before they even file, and that is the goal.
"Maria recognizes that even though there will be a point when she is no longer married to Arnold, they will still have four children together.