Exclusive
Mystery Surrounds Surfer Andy Irons Cause Of Death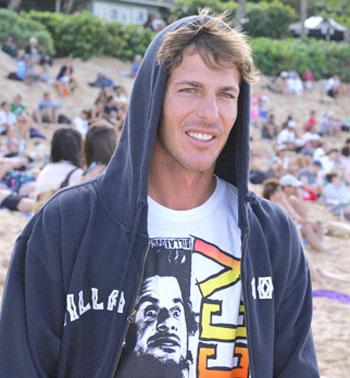 RadarOnline.com Staff Reporter
The sad death of world champion surfer Andy Irons is still surrounded by mystery.
The 32-year-old was found dead in a Dallas hotel room where he was staying after pulling out of a surfing contest after possibly contracting Dengue fever. His death shocked his family after he had taken a year off from surfing to deal with personal problems.
The long awaited toxicology reports and autopsy results were delayed while his widow, Lyndie, was pregnant with their son.
Article continues below advertisement
Irons' family released a statement Thursday announcing that he died from a heart attack caused by the hardening of his coronary arteries.
The family had also consulted an independent doctor to examine the official reports and released a statement from their family doctor, Vincent Di Maio, who told them: "A plaque of this severity, located in the anterior descending coronary artery, is commonly associated with sudden death," but that "the only unusual aspect of the case is Mr. Irons' age, 32 years old."
The official toxicology report and autopsy from the Tarrant County Medical Examiner noted a second cause of death as "acute mixed drug ingestion."
The drugs found in Irons system were Xanax and Methadone. Benzoylecgonine was also detected. This is often tested for when conducting cocaine urinalysis.
Di Maio said he believed the drugs found in Irons' system were at "therapeutic levels."
The report also showed trace amounts of methamphetamine in Irons' system. Irons wife insists though that the surfing champ did not use methamphetamine, "so it is likely the substance was present in the cocaine he ingested," Di Maio noted.
Article continues below advertisement
Before his sudden death, Andy released a video where he spoke of his love for surfing. "I have a lot of inner demons. If I didn't have surfing to get those out of my system, I would self-destruct," he said.
"Surfing's the only reason that keeps me going at a normal state. It keeps my life at an even keel; without it, it would just tip into oblivion."
RELATED STORIES: