Alyssa Campanella Of California Wins Miss USA After Nailing Pot Question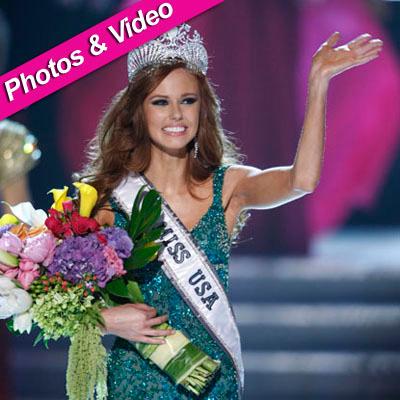 Meet the new Miss USA, Alyssa Campanella.
The gorgeous 21-year-old Miss California USA came out on top at the 60th Miss USA pageant held at Las Vegas' Planet Hollywood Resort & Casino on Sunday night.
Originally from New Jersey, Campanella, a 2007 Miss Teen USA runner-up, moved out to the Golden State to further her career in modeling.
As well as being a big fan of the Star Wars movies, Campanella says she's quite the history buff.
Article continues below advertisement
"Whenever I go to Barnes & Noble, I'm always in the history section and that is where you will find me," she told E!'s Giuliana Rancic, who co-host the event, along with Bravo's Andy Cohen. "I watch Game of Thrones, I watched Camelot -- I know those are fantasy, but I also watch The Tudors, so I'm a huge history geek!"
Watch the video on RadarOnline.com
Like Carrie Prejean some years back, Campanella was posed with a tough question in the Q&A phase of the show: Should marijuana be legalized?
Yes and no, she said.
"Well, I understand why that question would be asked, especially with today's economy, but I also understand that medical marijuana is very important to help those who need it medically," Campanella said. "I'm not sure if it should be legalized, if it would really affect, with the drug war.
"I mean, it's abused today, unfortunately, so that's the only reason why I would kind of be a little bit against it, but medically, it's OK."
Miss Tennessee, Miss Alabama and Miss Texas placed second, third and fourth, respectively.
With the win, Campanella replaces 2010's Miss USA, Michigan beauty Rima Fakih.
Campanella tweeted after the show, "In bed watching Miss Congeniality on TBS... Like you really thought I'd be getting sleep tonight. :-P"
RELATED STORIES: