Tony Romo Getting Married This Weekend!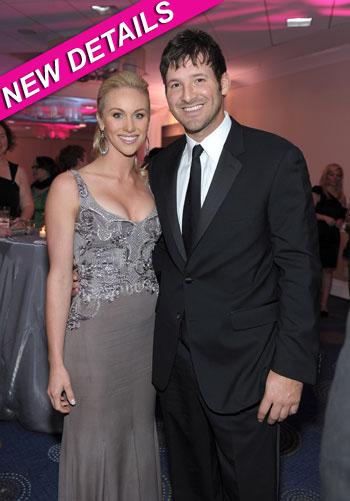 Sorry Jessica, Tony is beating you to the altar.
Dallas Cowboys star quarterback Tony Romo is tying the knot with his fiancée Candice Crawford on Saturday, May 28 and one special guest said the invitation is "one of the prettiest" they'd ever seen.
That special guest is Cowboys owner Jerry Jones, who because of the NFL lockout asked the other owners if he could attend the wedding in Dallas. The couple has invited all of Romo's teammates to the wedding and most are expected to attend.
Article continues below advertisement
"I've gotten special permission," Jones said Wednesday. "But more than anything I got the right ticket from him and his fiancée, Romo's wife-to-be. It's one of the prettiest invitations I've ever seen."
Jones expressed heartfelt feelings for his player who is marrying actor Chase Crawford's sister, a former television reporter. "I'm proud for him. He's go the best end of this deal."
Romo dated Jessica Simpson and many in Dallas blamed her for cursing the Cowboys during their losing streak. Jessica is engaged to former NFL player Eric Johnson, but has not revealed her wedding date yet.