The Royal Sweet Smell Of Success! Princess Kate's Perfume Sells Out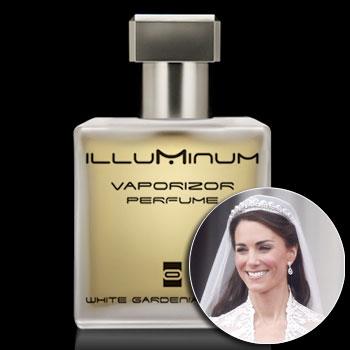 Radar Style & Beauty Editor
Forget about a celebrity spokesperson! The secret to a sell-out scent is to get a princess on your client list.
Catherine Middleton was wearing an under-the-radar British scent called White Gardenia Petals by Illuminum on her big day, and just moments after Clarence House released the name of the fragrance, the fragrance sold out across the globe.
The Illuminum line was launched in 2007 by celebrity hairstylist Michael Boadi, and fans of his fragrance line include First Lady Michelle Obama.
Article continues below advertisement
The White Gardenia Petals is described by the company as being 'as fragrant as a vase of white flowers, quivering in the breeze by an open window,' with a 'top note of Lily' and 'heart notes of White Gardenia, Muguet and Jasmine Breeze' with an 'underscore' of Amber Wood.
Though the $140 fragrance is not available immediately, it can be pre-ordered in the U.S. on Luckyscent.com.
RELATED STORIES:
Eau de Joe: Michael Jackson's Dad Hawking New Fragrance, Booze And Ice Cream