Exclusive
PHOTOS: Private Practice Star Shares His Wedding & Honeymoon Pictures With Radar!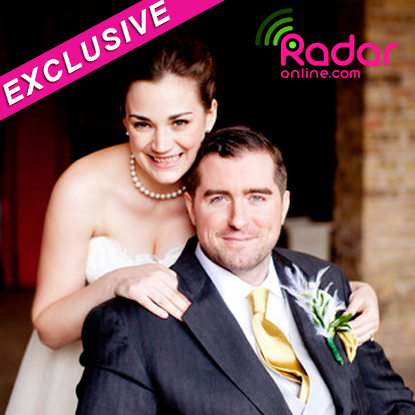 Radar News Director
Private Practice star Michael Patrick Thornton recently tied the knot with his girlfriend Lindsey Barlag, and he's sharing his private wedding and honeymoon photos -- only with RadarOnline.com!
As fans of the show know, Thornton plays the brillant, but arrogant geneticist, Dr. Gabriel Fife, on the hit medical drama, but in real life, he's extremely charming and easy-going.
Article continues below advertisement
As Private Practice prepares to air its season finale on Thursday on ABC, Mike (as his family and friends call him) is sharing his private wedding album with Radar and opening up about the ceremony, how he popped the question, and what's next for him.
Radar: First, tell me about the wedding. When and where did it take place?
Mike: On April 16 at Old St. Pat's Church in Chicago; Salvage One was the reception site -- a beautiful three-story warehouse where we had one of our first dates.
Radar: Was it a small, intimate affair or a big event?
Mike: We had over 250 (guests).
Radar: What was the most memorable moment of the wedding for you?
Mike: The ceremony was fantastic. We're members of Old St. Pat's and they do such a great job of being welcoming and loving. Walking out down the aisle was amazing. Our friends cobbled together a band and played Ray LaMontagne's "You Are The Best Thing" as we walked out. It was successive explosions of love detonating every second. We wrote our own vows. People were whooping and cheering and crying on our walk out. It was like the end of a movie. Totally crazy.
Article continues below advertisement
Radar: Tell me about your bride.
Mike: Lindsey Barlag Thornton is the most fantastic, loving, painfully good, honest, and beautiful creature God ever noodled around with. She's an educator, actor, and director who has her own theatre company, Genesis Ensemble, who devise their own shows from scratch. She's my best friend and the best thing to come out of Cincinnati since the chili cheese coney.
Radar: How long have you known each other?
Mike: Just over 4 years. We flirted for a while, then only started dating over two years ago. I met Lin while doing The Elephant Man at Steppenwolf (Theatre) ; I saw her in my periphery while rehearsing a scene and her beauty stopped me, literally, in my tracks. Mind shut down. Stammering. 'Who is that girl?' etc.
Radar: How did you pop the question and where?
Mike: Lin & I co-directed an adaptation of Colm Toibin's Brooklyn on a commission from The Chicago Public Library. I stayed home from rehearsal one night, set up a slideshow & playlist of music we had burned each other on mix cd's, dressed up in a shirt & tie (that makes it sound like I wasn't wearing pants. I assure you I was) and had a long box from Tiffany's on our couch. Her birthday was kinda around the corner so when she came over -- a little grumpy I had 'skipped' rehearsal. I told her I knew she had a rough day and was sorry I stayed home, maybe she'd like to sit down and open a gift early? She opened the box -- too long and rectangular to be a ring -- and found two champagne flutes inside. She was a little perplexed--doing that unique jig of "I Need To Appear Gracious + What The Hell Is This?" I told her they give you champagne glasses & a bottle of Dom when you buy an engagement ring. I pulled out the little blue box that I had been hiding, let her untie the bow, and told her, stammeringly, what she meant to me.
Article continues below advertisement
Radar: Who was your best man?
Mike: My father, Frank. Who else. He's awesome... a Chicago cop for 31 years and one of the most loving people I know. My friends, I suspect, like hanging out with Frankie more than me. :)
Radar: Did any of your Private Practice castmates attend the wedding?
Mike: I didn't invite any of the PP peeps actually. I genuinely love them all, but to be quite honest, Lindsey's had to make some pretty significant adjustments because of Private Practice... nothing to complain about, certainly, but we went from being a couple in Chicago who both worked in theatre to, after Private Practice, being approached in restaurants for photos, being asked a ton of questions about the show, etc., etc. -- so I felt strongly that our wedding needed to be one day where Lindsey was, categorically, the star. And we achieved that. All eyes were on her.
Radar: Where did you go on your honeymoon?
Mike: Paris and London.
Radar: What's your status with Private Practice?
Mike: Last we saw, Fife was heartbrokenly wheeling away from Naomi, headed back to D.C.
Radar: Do you know yet if you will be coming back next season?
Mike: I do not. I'd love to. I've never had a real scene with KaDee (Strictland) or Amy (Brenneman). The closest person Fife really has for a friend is Pete, and I'd love to see that friendship grow. I'd love to get into some dialogue with Charlotte & Addison, but who knows? What I do know is Fife's a wonderful character. It's very tricky to play an arrogant character; too much arrogance & it's one sided, devoid of real wants/stakes and completely unlikeable. Too much porousness in the armor and you're being disingenuous to the character, apologizing as the actor through the holes to the audience for his arrogance. So finding the sweet spot is what I'm addicted to. Whether you ever see Fife again or not, no character exhibiting that much arrogance does not also have a correlative amount of insecurity, hurt, and need from which that arrogance springs; I hope that's the portrait I've given the audience. I usually never talk openly about process and character, but seeing as how there's a very real chance that last week was the last time you'll ever see Fife, I feel I can share a bit more than I usually would. No matter what, ABC put a sexually active, confident, brilliant, and funny character on prime time television who incidentally uses a wheelchair. I commend them for that. It was a ballsy move whose ramifications are permeating real lives: I got a letter from a woman in Texas whose teenage son (who uses a wheelchair) found the confidence to ask out the head cheerleader because 'if Dr. Fife can have a hot girlfriend, so can he.' That's just fu*king awesome. That means more to me than any award. I hope that guy's having mind-blowing (safe, protected, responsible) cheerleader sex.
Article continues below advertisement
Radar: How is the cast reacting to the departure of Audra McDonald, who plays Naomi?
Mike: As I'm just a recurring guest star, I don't feel comfortable speaking for the cast who are a beautiful ensemble. I can't imagine it's anything but bittersweet. As an actor, you hope to have a scene partner of Audra's depth & grace once in your life. I feel privileged to call myself her scene partner and miss her already.
Radar: Last's season finale of Private Practice had several shocking twists, most notably the death of Dell. Can we expect more high-drama and cliff-hangers on this season's finale?
Mike: (Private Practice creator) Shonda Rhimes has said that the season finale will be relatively quiet.
Radar: Besides working on Private Private, you're the Artistic Director and co-founder of The Gift's Theatre Company in Chicago. Tell me about the company's world premiere play.
Article continues below advertisement
Mike: The co-founder of The Gift is Will Nedved. Will lives in Los Angeles now and is a tremendous writer. Gift started out doing a few of Will's world premiere plays back in the early 2000's and we now inch closer to our ten year anniversary with his play Northwest Highway, written for The Gift and set in Jefferson Park, the neighborhood where I live and where The Gift Theatre is. Will's such an expert at quiet Chekhovian implosions sprinkled with mad dashes of whimsical humour. He's a real humanist and I hope the powers that be in Hollywood give him the chance he deserves. He's the kind of writer who could turn in a beautifully nuanced teleplay for Private Practice, a one-man show for L.A. Fringe, and a haunting three act play about coming out of the closet, the history of Iowa, and minor league baseball all in the same week. Northwest Highway opens in June and people can say yes to new plays at www.thegifttheatre.org.
Radar: Anything else new in the works you want to share?
Mike: The improv team I play on, Natural Gas, has been invited back to iO West May 20th & 27th to perform their unique blend of comedic insanity. I can't make it to those shows, but people will have a blast. Natural Gas is 50 minutes of completely improvised lunacy. I've played with them for three years and they're incredible comedians. You can reserve your ticket, which I highly recommend since our last show sold out.
Article continues below advertisement
I'm excited and privileged to be in the premiere of Will Eno's Middletown at Steppenwolf. We're currently in rehearsals.
And then a lot of movie auditions this summer. As an actor, you never really stop auditioning. As the old Zen koan goes, "Before enlightenment, chop wood, carry water. After enlightenment... chop wood, carry water." Now, I'm definitely not saying I'm enlightened by ANY stretch of the definition, but you add up an artistic life that consists of making art on a fairly continual basis across a number of canvasses -- tv, stage, improvisation -- with different empoweringly and deliciously talented ensembles (Gift, Steppenwolf, Private Practice) with getting to wake up every morning, play and make a life with Lindsey, the girl of my dreams... and it feels pretty damn close.
Radar: Finally, you're such a Chicago guy, can you ever picture yourself relocating to L.A.?
Mike: Never say never, but I'm really happy in Chicago & commuting for work. There's a lot of great things about Los Angeles, a while having a place there one day isn't certainly out of the question, Chicago is our home.
*Check out Mike's fan page on Facebook!
*Wedding photos taken by Olivia Leigh