Pippa Middleton's Love Boat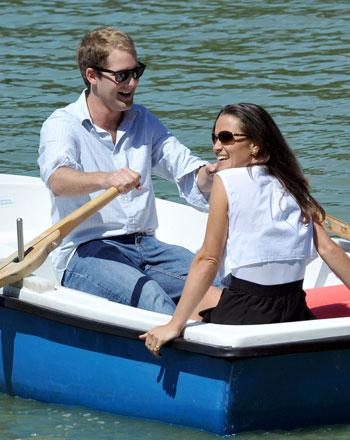 Pippa Middleton knows how to get things done – you have your ex-boyfriend do the work!
Spotted on vacation in Madrid for the weekend, Kate Middleton's younger sister enjoyed a relaxing row on the water in Retiro Park with her ex-boyfriend George Percy. Was it a love boat?
Pippa and George met and dated when they were students at the University of Edinburg, and they were even roommates for a while. The two spent the weekend partying together with a group of friends, as RadarOnline.com previously reported.
Article continues below advertisement
Friday night Pippa and George and some friends hit the exclusive Fortuna nightclub, she went sightseeing with friends on Saturday, and that night parties at the swanky bar, The Penthouse, until 4am.
Bikini Wars: Pippa Vs Kate Middlteon
Though she has been dating a former cricket player and financial trader Alex Loudon, she has remained friendly with George Percy, whose father is the Duke of Northumberland and one of the wealthiest men in England.