Beatle Paul McCartney To Wed - Again!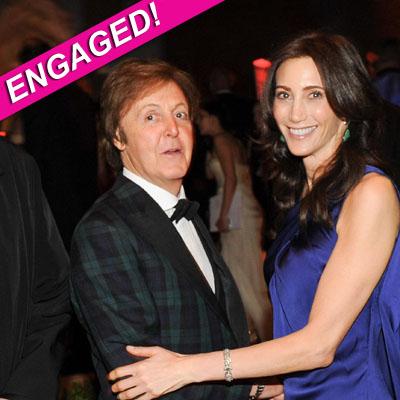 RadarOnline.com Staff Reporter
Paul McCartney is getting ready to walk down the aisle again.
McCartney is official engaged to galpal Nancy Shevell. No wedding date has been announced.
The lovebirds started dating in 2007 after meeting in a posh party in The Hamptons, N.Y.
The former Beatles frontman is gearing up for his third trip to the altar – at the ripe age of 68.
He is 17 years older than Shevell, a socialite and businesswoman.
Article continues below advertisement
McCartney married Linda McCartney in 1969, and animal rights activist Heather Mills in 2002. Linda, a guitarist on McCartney's Wings, died of cancer in 1998. And his marriage with Mills ended in one of the nastiest celebrity divorce. The split cost him an estimated $50 million because he did not have a pre-nuptial agreement.
Shevell, 51, was previously married to New York politician and lawyer Bruce Blakeman.
Unlike his second wife Mills, McCartney's new fiancée already has won the approval of his five children: Heather, 48, Mary, 41, Stella, 39, James, 33, and Beatrice, 7.
RELATED STORIES: