Exclusive
Madonna's Brother Not Sure About Lourdes New Song & Career Move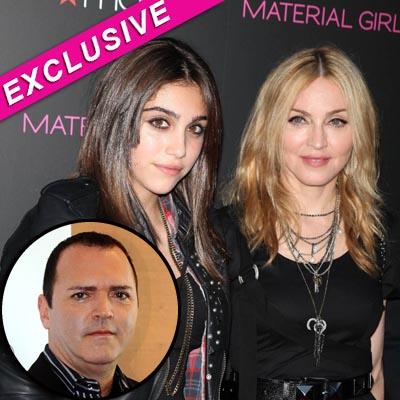 RadarOnline.com Staff Reporter
Madonna's estranged brother Chris Ciccone isn't sure if it's a good idea for the superstar's daughter Lourdes to launch a music career like her famous mom.
The Material Mom, 52, has collaborated with her 14-year--old daughter to record the song It's So Cool, which may appear on her next album or on the soundtrack to her new movie about US socialite Wallis Simpson and her relationship with Edward VIII.
Article continues below advertisement
But music manager Chris -- who helped mastermind Madonna's rise to superstardom before they fell-out over his 2008 book Life With My Sister Madonna -- remains skeptical about Lourdes latest project.
He told RadarOnline.com: "To tell you the truth I don't know if Lourdes is a good singer or performer, and I don't know if it's a good idea. We'll just have to wait and see how it pans out.
"I guess it would be good if they had a hit, and Madonna seems to be passing on the torch to her daughter now.
"One thing I do know for sure is that Lourdes seems to have inherited the famous Ciccone work ethic, that's for sure."
Madonna and Lourdes first recorded the track together eight years ago, but it was reworked in a New York studio last February.
The original 2003 song had an acoustic feel, but it was turned into a Euro pop version and released through iTunes to promote Madonna's 2009 Celebration compilation.
Article continues below advertisement
LONG LOST PHOTOS: Madonna - Before She Was Famous
But Lourdes' voice was not on that re-worked version, and their recording has never been released.
It's understood record companies and film bosses have been courting the famous teen who has already helped her mom launch their Material Girl clothing collection.
Ironically, Chris Ciccone has formed his own music management company, The Ciccone Factory, that aims to mentor new acts and help them secure recording contracts.