PHOTOS: Lady Gaga Rounds Out Her Wardrobe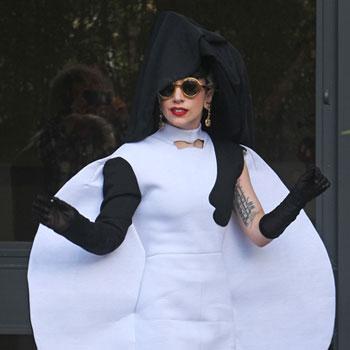 by Radar Staff
Lady Gaga sure knows how to round out her wardrobe.
The Born This Way singer -- wearing a rather stylish white circular dress with black sleeves and veil -- arrived at The Graham Norton Show in London on Thursday to tape an interview with the impish Irish TV host.
If you're not familiar with The Graham Norton Show, it's a hilarious talk show that airs on BBC in the UK and on BBC America.
Article continues below advertisement
Gaga's interview will air in the UK on May 13, and in the U.S. on May 21.
And good news Little Monsters! If you're gaga over Gaga, there's plenty more opportunities to see the outrageous Poker Face singer; she'll be performing live on the season finale of Saturday Night Live on May 21 (Justin Timberlake is the host) and on Good Morning America on May 27 to promote her new album Born This Way.
RELATED STORIES: