Justin Bieber Blasts CSI Hottie For Brat Comment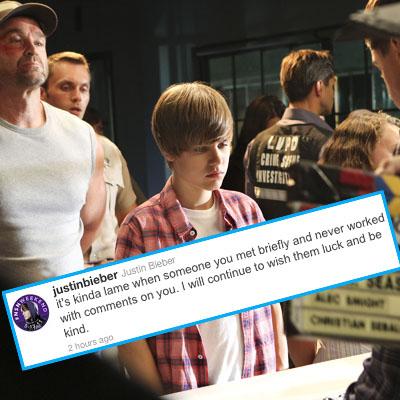 RadarOnline.com Staff Reporter
Justin Bieber has gone on a Twitter offensive after CSI star Marg Helgenberger told a French radio show he was a "brat" during filming of his two-episode role on the CBS series.
Without naming Helgenberger, the teen singing sensation fired back: "It's kinda lame when someone you met briefly and never worked with comments on you. I will continue to wish them luck and be kind. Rumors are just that...rumors. In the end if you just be kind and be yourself people will know who you are. That goes for anyone i think
Article continues below advertisement
"Don't spread gossip and dont spread rumors about others...im a kid and i know that."
During her radio interview last week, the 52-year-old actress claimed the Never Say Never singer misbehaved on the set.
"I shouldn't be saying this," Helgenberger told an interviewer, "but he was kind of a brat. He was very nice to me. But he locked one of the producers in a closet and he put his fist through a cake that was on the cast's table."