VIDEO: Jesse James Implies Sandra Bullock Is Insincere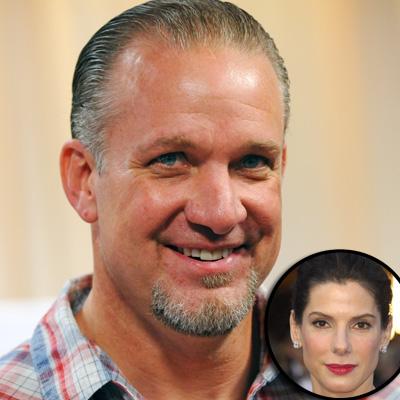 According to Jesse James, Sandra Bullock doesn't stop acting when the director yells "Cut!"
The West Coast Choppers star takes a thinly-veiled dig at his Oscar-winning ex to CNN's Piers Morgan in a pre-taped interview slated to air Friday.
Here's how it all went down:
Morgan recalled when The Blind Side star famously said during her 2010 Golden Globes acceptance speech -- just weeks before James' serial cheating came to light -- that her "work got better" upon meeting him.
Article continues below advertisement
James responded, "She said that same speech at four different award shows ... you can take whatever you want from that ... what does she do for a living?"
"Movie star -- actor," Morgan responded.
"Yeah, OK," he said.
Asked if he thought Bullock was putting on an act, James said, "I think ... show business people have to live in that world ... it's just pretend, it's not real.
"I don't know how I survived in there as long as I did ... you're cool, but the rest of those people ... I can't hang with them."
Watch the video on RadarOnline.com
James then painted himself as more comfortable with the blue collar than the red carpet.
"I'm, like, the guy that goes to a shop. And I don't hang out in the office. I go to the back of the shop, and hang out with the guys that are all greasy, dirty. And that's -- that's where I belong."
James appeared to promote his new book, American Outlaw. His marital problems with Bullock began shortly after she won the best actress Oscar for her work on The Blind Side at the 2010 Academy Awards. After a number of mistresses came public with their sordid tales, the couple split, finalizing their divorce in summer of 2010.