Exclusive
Italian American Leader Calls Snooki 'The Lowest Of The Low' After Cop Car Crash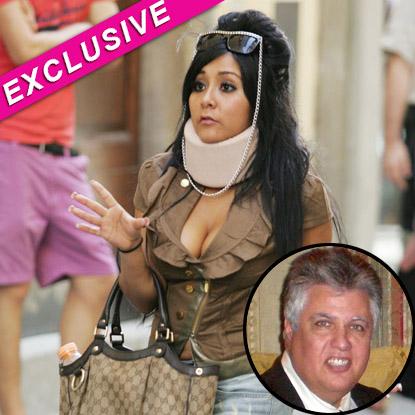 The President of a national Italian American group has branded Nicole "Snooki" Polizzi as the country's worst ever export after she crashed into an Italian police car this weekend.
UNICO President Andre Dimino exclusively told RadarOnline.com: "She really is the lowest of the low and will do anything for attention, even hitting a police car."
"She is our worst ever export and is an embarrassment for Italian Americans and our whole country."
Article continues below advertisement
"For MTV to go and film in Italy was totally ill conceived, and this latest incident has just added insult to injury as far as I'm concerned."
"The whole situation is actually really sad, and it is painting our country in a terrible light."
UNICO previously called for MTV to scrap Jersey Shore and even consulted lawyers over the network's portrayal of young Italian Americans as booze crazed party animals.
Despite the fact that two officers suffered whiplash in the minor fender bender, Snooki was not arrested in Florence over the weekend.
Authorities said that alcohol was not a factor in the crash which happened while the police car was escorting the MTV star through the historic city.
Snooki's Jersey Shore co-star Deena Cortese and a production assistant were in her car when she hit the police vehicle, but neither were injured.
Article continues below advertisement
Both officers involved in the crash were taken to the hospital to be checked-out, while Snooki and Deena went to a local police station to fill in an accident report.
Following Sunday's accident there was no sign of Snooki when her co-stars Jenni "J-WOWW" Farley, Deena Cortesse and Sammi "Sweetheart" Giancola, went on a girls night out in Florence on Monday evening.
MTV are currently filming the fourth season of Jersey Shore in Florence, Italy.