PHOTOS: Tom Cruise, Barbra Streisand, Sly Stallone Among Stars At Malibu Memorial Day Party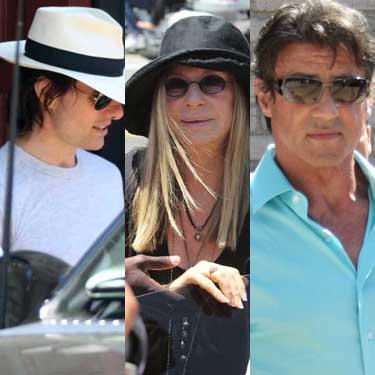 The guest list for uber producer Joel Silver's annual Memorial Day party read like a 'Who's Who in Hollywood' as the industry's biggest A-listers gathered to mark the holiday at his beach bash in Malibu.
Pregnant Mad Men star January Jones hid her growing bump under a white shirt while no doubt avoiding any conversations regarding the identity of her baby daddy.
Estranged couple Courteney Cox and David Arquette turned it into a family occasion by spending the holiday weekend together with daughter Coco, who turns seven in two weeks.
Article continues below advertisement
Tom Cruise hid from the sun in a fedora hat while Katie Holmes took five-year-old Suri to play on the sandy beach.
Dressed in a casual buttoned-down white shirt, British director Guy Ritchie looked happy to celebrate the American holiday alongside big name stars such as Sylvester Stallone, Barbra Streisand, Robert Downey Jr and Richie Sambora.
The party's host, Silver is credited reinventing the action genre in the 1980s and has produced numerous box office hits including the Matrix trilogy, V For Vendetta and Sherlock Holmes.