Fly Like A Star! Radar Travels To Paris On The OpenSkies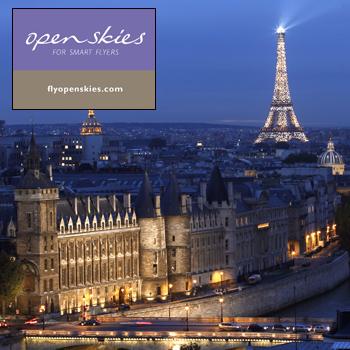 So that's what it feels like to be Beyonce!
The good folks at OpenSkies invited a dozen journalists from around the country to be their guest and experience a star-worthy weekend in Paris, so RadarOnline.com packed up our Prada (OK --our best Gap t-shirts and slacks) and gladly went along for the ride.
If you're not familiar with OpenSkies, it's a boutique style airline that offers business-only seats and world class service in its direct flights to Paris from either New York or Washington, D.C.
Article continues below advertisement
During the course of three sunny days in beautiful Paris, some of us stayed at the luxurious Le Meurice Paris, a 5-star hotel restored to its original 18th century splendor and now designated as an official palace. (Beyonce and Jay-Z stayed there only days before we did!)
The rest of the group stayed at the equally gorgeous Hotel Le Bristol another 5-star property; both hotels happen to be featured in the new Woody Allen film Midnight in Paris, starring Owen Wilson and Rachel McAdams.
Some highlights of our trip: we attended a cooking class at the world famous Ritz Escoffier Cooking School and then dined on our creation of roasted sea bass with braised leeks and cilantro (fancy, right?) in the restaurant's hustling and bustling kitchen.
Other memorable moments of our trip included a private boat tour on the scenic Seine River, followed by dinner at Le Relais Plaza courtesy of The Plaza Athenee Paris; brunch at the Les Ambassadeurs at the stunning Hotel de Crillon; dinner at trendy Chez Andre just off the Champs-Elysees where some of us (OK, not me) tried such French delicacies as snails and frogs' legs; a tour of the elegant Shangri-La Paris Hotel followed by lunch at its French and Asian inspired restaurant La Bauhinia; dinner at the cozy Pur'Grill at the Park Hyatt Paris and a farewell breakfast at the Hotel Le Bristol's famed restaurant 114 Faubourg. (And yes, our diet started the moment we landed back in the USA!)
Article continues below advertisement
Over dinner at Le Relais Plaza, we caught up with our gracious hosts, including Mr. David Erich, Commercial and Marketing Director for OpenSkies, a 20-plus year vet of the aviation industry, to talk about the airline's unique philosophy, their special amenities (like seats that recline into uber comfy beds), and how the airline industry has changed over the years, and especially since 9/11.
Radar: Mr. Erich, as someone in the airline industry, I'd imagine you travel a lot and at times, have to fly another carrier. What are some of your pet peeves about other carriers in general, as compared to OpenSkies?
David: I do travel quite a bit both domestically and internationally and fly a number of carriers other than OpenSkies. I am really not a "pet peeve" kind of guy, but if I were to have a few they would be around punctuality. Being in this business as long as I have, and working on the operational side for part of my career, I really focused on punctuality as one of the key differentiators. My other one is related to that when flights are late and you get a less than honest explanation for what is happening. Frequent flyers know, so just tell them the truth.
Article continues below advertisement
Radar: In your view, with so many airlines people can choose from, what sets OpenSkies apart from the rest?
David: OpenSkies is one of the only boutique airlines in the world, offering passengers business class travel at an unmatched value. Our prices are less expensive than business class on other commercial airlines and sometimes even less than a regular Premium economy class ticket. I think the ease and efficiency that comes with flying OpenSkies is one of the main reasons passengers choose our airline. Our comfortable seats, relaxing cabin and on-board service allow travelers to make the best use of their time-whether that means sleeping to arrive well-rested, or for our business travelers, continuing to work while in mid-air. In a world where time is often the most valuable commodity, business and leisure travelers alike need an option like OpenSkies.
Radar: How did the idea of creating a boutique type airline offering only business class come about?
David: It has been attempted by a number of different carriers, so we were not necessarily the first. I think the first one that I was aware of was back in the 80s or early 90s and that was Regent Air who flew between JFK and LAX. Since then there have been all sorts of attempts, but unfortunately most of them have failed. We feel that customers today are looking for differentiation, individuality, and value in everything that they purchase and that is what we are hopefully providing to them.
Article continues below advertisement
Radar: Is it true that OpenSkies charges less for a business class seat to Paris than other airlines, and if so, how is it able to do this?
David: In most cases that is a correct statement. That is one of our driving principles to differentiate our offering from the competition. We attempt to do it by having a lower cost base than our competitors and focusing on one thing and doing it well. Legacy carriers have to provide a whole range of services and destinations, whereas our offering is simple.
Radar: Tell me about some of the special amenities offered to passengers, including seats that fully recline into beds.
David: The special amenities start with the moment passengers arrive at the airport with a dedicated check-in that allows simplified access to the gate through a "Fast-Track" security lane. The lounges that OpenSkies offers include light meals, beverages and high-speed wireless internet. On board, every passenger gets an small amenity kit that includes socks, eyeshades, ear plugs, tooth brush, and tooth paste. Those customers in BizBed also receive a plush comforter making it even easier to sleep restfully. Our BizSeat reclines to 140 degrees while the BizBed reclines to a completely flat bed. Every customer on the plane is offered a multimedia entertainment package and personal player with over 50 hours of programming. The meal service features French cuisine, wines and champagne.
Article continues below advertisement
Radar: You just mentioned your meal service, which is pretty spectactular. Tell me about your menu.
David: Our in-flight dining options are inspired by top chefs to showcase French cuisine and give passengers an enjoyable culinary experience. The meals are served a la carte with first course options like duck breast, cream of leek and potato soup with coriander, or mixed salad with salmon. Our hot entrée options include choices such as chicken supreme in a bordelaise sauce, rack of lamb with mustard sauce and cod in a dill sauce served with pasta and vegetables. The third course is a fine cheese followed by a delicious gourmet dessert including chocolates, coffee and tea.
Radar: So many other airlines now charge for even one piece of luggage, but OpenSkies does not charge for the first three bags. How are you able to do that, and what's been the response from passengers?
David: There are a number of reasons that we offer this allowance including staying competitive in today's premium competitive environment. Moreover, with only 84 seats onboard our 757s, we also have more room to offer this allowance, and frankly our customers expect it.
Article continues below advertisement
Radar: Right now, OpenSkies flies to Paris from New York and Washington, DC. Are there any plans to offer flights from other cities in the U.S.?
David: We are always looking at new route combinations to take advantage of the Open Skies agreement between the US and EU, but at this time we have not finalized those plans.
Radar: Do you have any special provisions for people who may want to travel to other areas of France, and not just Paris?
David: We are delighted to say that we recently expanded our tgvair partnership with TGV, the high-speed French rail system. Passengers can now connect seamlessly to 14 different cities throughout France, including some of the most coveted destinations in the South of France. Travelers simply book both tickets via flyopenskies.com and upon arrival in Paris, take the complimentary shuttle from Paris Orly Sud airport to the Massy train station.
Article continues below advertisement
Radar: I'd imagine that you've had the opportunity to visit Paris several times. What are some of your favorite hotels, restaurants, and places off the beaten path?
David: I am in Paris a few times a month and have mostly stayed near Orly airport, so my life in Paris is probably not as exciting as one might think. Having said that, there are though some world class hotels that we have had the opportunity to work with like The Crillon, Bristol, Le Meurice, Plaza Athenee, and the Royal Monceau. As far as restaurants are concerned, I am more of a brasserie guy and can recommend a few of Hemingway's hangouts including Le Select and Deux Magots.
Radar: As someone who's been in the airline business for more than twenty years, can you talk about how the industry has changed over the years, and especially since 9/11?
David: Change is the only constant in this business and if you don't embrace it, you might want to find another industry to work in. Every year in this industry brings new ideas, technology and challenges, none as challenging though as the changes after 9/11. And those changes have not only been challenging for us, they of course also present many challenges to our customers. We try to create an environment onboard though where we hope our customers can escape from some of those challenges.
Article continues below advertisement
Radar: What has the cost of fuel impacted the airline in the past few months, and where do you see the price headed as we enter the peak summer flying season?
David: Well, if I could truly answer that question, I probably would not be in my current job, but instead be a world class economist! Fuel is our highest cost item, and therefore any rise in costs has a direct effect on our finances. The increases we have seen this year though have been much higher than budgeted and so we have had to find other cost savings and increasing our fuel surcharge to try and recoup some of the increased costs. We have seen prices come down a bit over the past two or three weeks, but until there is more stability in the Gulf region, I am afraid that we will continue to suffer in this area.
Radar: Finally, you truly are a man with a lot of miles on you. How many miles do you imagine you've flown in your lifetime?
David: Great question, but I don't keep count. I do know that one year I made 40 transatlantic roundtrips, and I might approach that number this year. The miles come with the job and that is what makes air travel so important in business. It allows you to meet face to face, and I am one of those guys that feels that being in other people's environments brings out the best in you and them, so I will continue to rack up the miles.
Special thanks to the gorgeous hotels that hosted us during our trip, including LeMeurice Paris, Le Bristol Paris, Shangri-La Hotel Paris, Hotel de Crillon Paris, Ritz Paris, Park Hyatt Paris and The Plaza Anthenee Paris.
Also special thanks to Huma Gruaz, President/CEO of Alpaytac, Inc. and Michelle Mekky, Vice President of Alpaytac, Inc. who organized the trip on behalf of OpenSkies.