FIRST PHOTOS: January Jones Sports Baby Bump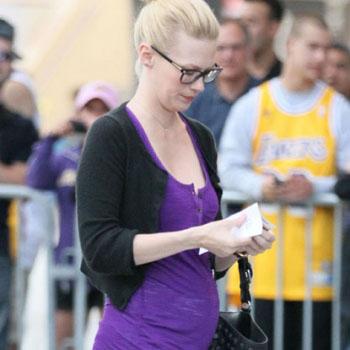 Mad Men star January Jones was spotted at the Laker/Mavericks game in Los Angeles Monday night sporting her growing baby bump.
It was the first time we've seen photos of the actress since news broke that she was expecting her first child.
The big question is -- who's the baby daddy?
The Washington Post asked Jones' ex-boyfriend, Saturday Night Live star Jason Sudeikis, about Jones' pregnancy at the White House Correspondents' Dinner in Washington, D.C. over the weekend, and he appeared to be rather tongue-tied.
Article continues below advertisement
"I'd rather - yes but no," 35-year-old Sudeikis told the Post.
PHOTO: Rachel Zoe's First Baby Pic!
Asked again if he was surprised to hear Jones was pregnant, Sudeikis seemed once more unsure. "No, I -," the actor said, followed by a pause and more stammering, eventually adding, "No, I didn't have anything else to say."
Sudeikis, 35, and Jones, 33, began dating last July but ended their on-off relationship on friendly terms in January because of the long distance.