VIDEO: Pregnant Kate Hudson Flashes Back To Her Own Birth: 'The Doctor Thought I Was A Boy'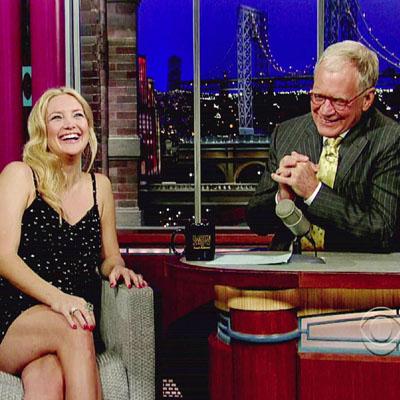 Pregnant Kate Hudson told David Letterman her doctor thought she was a boy at birth.
Hudson, who announced her engagement to her unborn baby's father, Muse rocker Matthew Bellamy, on Wednesday 's Today Show, told a cute story about the doctor's misconception on Wednesday night's Late Show.
"The doctor thought I was a boy," Hudson said, noting her mother Goldie Hawn loves to tell the story whenever she's introducing Hudson to someone. "I had a big head ... I was 10 pounds, and I guess when I came out ... I looked masculine ... then they saw the rest of me, and it was definitely not a boy."
Article continues below advertisement
"I'm no doctor," Letterman joked, "but I know that determining the sex of an individual is not by one's head!"
Hudson has a son named Ryder with her ex-husband, Black Crowes crooner Chris Robinson. The Almost Famous beauty was previously romantically linked to baseball player Alex Rodriguez, cyclist Lance Armstrong and actor Owen Wilson.
Asked about Bellamy, Hudson said, "He's wonderful ... I'm very lucky.