VIDEO: Romeo Eliminated On Dancing With The Stars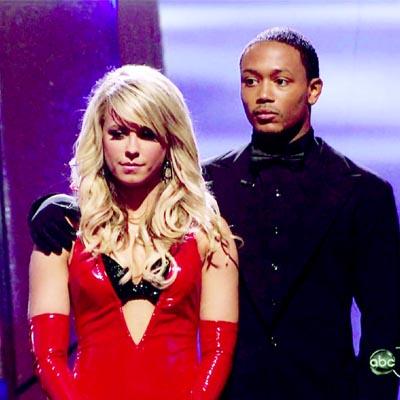 Wherefore art thou Romeo? Not on Dancing with the Stars anymore.
The rapper was eliminated from the ballroom competition Tuesday night after his pair of dances Monday earned him the night's second-lowest total, with 52 out of 60 possible points.
"I'm surprised because that was one of my best dances last night," Romeo said after he was ousted. "But at the same time I'm not surprised, because of the competition this year."
Article continues below advertisement
The chiseled 21-year-old singer, who was paired with Chelsie Hightower, said he's made great strides in curing his fear of dancing.
"I was terrified of it ... I didn't even dance at my own prom."
The rapper later tweeted: "I was taught to never hold your head down if u go down fighting giving 100% & thats what I did! This #DWTS journey has def. been magical."
With Romeo gone, the final four contestants this season are Look Who's Talking star Kirstie Alley, Pittsburgh Steeler wide receiver Hines Ward, Disney beauty Chelsea Kane and The Karate Kid star Ralph Macchio.
MORE ON:
Dancing With the Stars