VIDEO & PHOTOS: Chaz Bono -- I Had Sex With A Guy 'Once'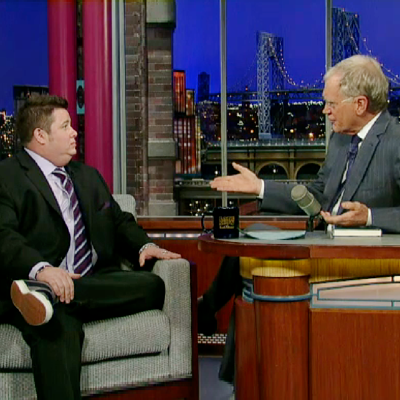 Chaz Bono held nothing back in discussing his decision to become a man -- and his famous mother's reactions to the bold move -- with David Letterman on Wednesday.
Bono told Letterman that beginning in puberty, he was very uncomfortable in his body, and those feelings intensified with age. Bono, formerly known as Chastity, admitted that he's never dated a man and only had sex with one "once" just so he could "know for sure."
Article continues below advertisement
Bono said his transformation has "been a process" for Cher to absorb, but she's progressively grown "more and more comfortable with it."
"Now is there anything different about her I should know about?" Letterman asked.
"No!" Chaz said, laughing. "It's not catching!"
Watch the video on RadarOnline.com
The 42-year-old daughter-turned-son of Cher and the late Sonny Bono, is three years into a female-to-male gender reassignment process.
He's on the promotional trail for Becoming Chaz, a documentary about his transformation which premiered this past Tuesday on Oprah Winfrey's OWN network. Chaz also just released his memoir, entitled Transition: The Story Of How I Became A Man.
During her appearance on the Late Show last November, Cher told Letterman she was happy for her child in finding peace with his new self.
"I was saying to someone the other day, 'I really like being a woman, I feel so comfortable in my body, and if I woke up and I was in a man's body, I'd think, 'Oh my God, I've got to get out of here,'" Cher said. "And that's the way Chaz felt, it was never comfortable -- he's very comfortable now."