Exclusive
Casey Anthony Trial: Father Found Maggots And Smelled Decomposing Body In Car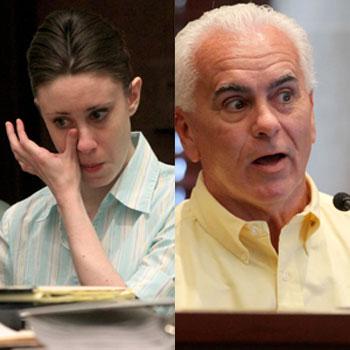 RadarOnline.com Staff Reporter
As the first week of testimony wrapped up in the trial of Casey Anthony, her father revealed the shocking news that he smelled "a decomposing human body," in her abandoned car and saw maggots in the trunk a month after he had last seen his granddaughter alive.
On the witness stand for the third time, George Anthony choked up when he described picking up Casey's car from a tow yard on July 15, 2008. He said he smelled "a pretty strong odor," as he approached the car with Casey's mom, Cindy.
Article continues below advertisement
"I was very concerned about the odor. I had smelled something like that some years prior and I was concerned," he said.
"That particular smell, whenever you smell it, it's something that you never forget. It's a very distinct odor," George testified. He said he was praying as he approached the car.
"Please God don't let this be Casey or Caylee," he recalled saying out loud in a "high whisper," before opening the trunk. Inside the trunk there was a bag of trash and maggots.
"It relieved me a little bit to know that I could not see anything in there as far as my daughter and granddaughter inside," he said.
A strand of Caylee's hair was found in the trunk though and the car tested positive for chloroform and human decomposition.
The defense claimed in opening statements that Caylee Marie drowned in the family swimming pool on June 16, 2008 and George Anthony helped Casey cover up her death.
Article continues below advertisement
Casey Anthony is charged with first degree murder and if she is found guilty could be given the death penalty for the murder of her two-year-old daughter Caylee Marie Anthony.
The sequestered jury was dismissed Friday and given special permission to watch the Tampa Bay Lightening hockey game.
The trial will resume Saturday and RadarOnline.com will have the live stream of the proceedings.
RELATED STORIES: