VIDEO: LeBron James Calls Mother Gloria's Arrest A 'Very Sensitive' Subject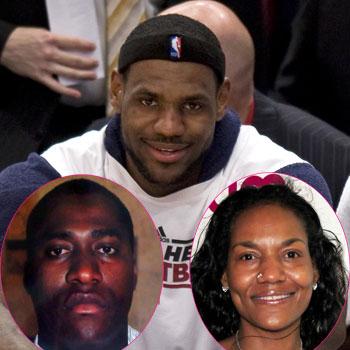 Miami Heat superstar forward LeBron James was downright uncomfortable on Thursday when asked about his mother's arrest at the South Florida's Fontainebleau resort earlier that day, saying he's not going to let the fiasco distract him from his work on the hardwood.
"It's very sensitive, because it's your mother, of course... you guys want to ask me anything else about basketball, I'm happy to answer it," the King, 26, told Miami TV station WSVN at Thursday's practice.
Article continues below advertisement
"You have to move forward," LeBron said. "It is my life, and it is certain things you have to deal with, but like I said, I try not to let it be a distraction. I have a job that I have to do still, at the end of the day.
"Sometimes things happen in life. You take care of it and move on."
As RadarOnline.com previously reported, the mother of the NBA's most-celebrated player was taken into custody at the posh Fontainebleau resort in Miami Beach around 4:57 am ET Thursday, after getting into an altercation with a car parking valet attendant, slapping the man, police said.
The valet attendant, Sorel Rockfeller, told the station that prior to Thursday's incident, no one had ever slapped him before.
"When I was slapped, I was shocked. I've been doing valet for like two weeks, and this is the first time I've met somebody like that.
Miami Beach Police Sgt. Wayne Jones told WSVN that Gloria James "was drunk, common terms.
"I'm pretty certain though Ms. James is probably a very lovely lady when she's sober, this morning she was not so much."
Article continues below advertisement
This is not the first time Gloria has had a brush with the law: she was also arrested in Akron, Ohio for drunken driving back in January, 2006. In May of that same year, she pleaded no contest to four charges in connection with the incident. She had to perform 100 hours of community service, cough up $550 in fines and damages, and attend a class on the dangers of drug and alcohol abuse.
radar_embed service=5min.com src=" http://pshared.5min.com/Scripts/PlayerSeed.js?sid=1126&width=600&height=412&playList=517712768&sequential=1&shuffle=0"
Gloria also caused a minor stir last spring, when rumors sprouted she'd been secretly dating her son's then-teammate, Delonte West.
James' teammate Dwayne Wade, who's made his own recent headlines with an ongoing custody battle, said if Gloria's arrest: "We understand that things are gonna happen.
"We haven't had that many issues here this season," the superstar guard said in support of his teammate. "It's been great. You know, just sometimes things happen in life."