Puppy Tweets: Helping Your Dog Keep In Touch, One Tweet At A Time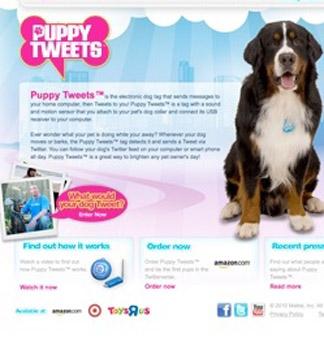 Remember when it just used to be birds that Tweeted?
Nowadays, everyone from LeBron James to Lady Gaga to your next door neighbor are expressing their every thought to the masses, 140 characters at a time. With the huge boom of the social networking micro-blog that is Twitter, Mattel has come up with the ingenious idea of Puppy Tweets, the electronic dog tag that sends messages to your home computer, which then Tweets it to you.
Article continues below advertisement
Here's how it works: anytime your dog moves or barks, the Puppy Tweets tag will detect it, and send a Tweet, which you can follow on your dog's Twitter feed on a computer or smart phone all day long.
You can't bring your dog with you to work, or the restaurant, or the gym, but Puppy Tweets makes for the next-best thing.
For more info, check out puppytweet.com.
Some lucky celebs will have tweeting pets soon: HollyWOOF just gifted them with Puppy Tweets.