Uh Oh! Glee Extra Spoils Prom Episode And Is Fired!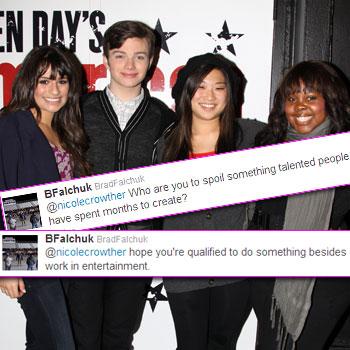 Radar Staff Reporter
Don't mess with a Gleek!
RadarOnline has discovered that a regular female extra on the set of Glee learned the hard way that what happens on the set, stays on the set.
Glee extra Nicole Crowther used her Twitter account Sunday night to hold a little Q&A session with fans and gave away some major details of the upcoming prom episode.
The spoiler in question and the rest of Crowther's Twitter account have since been deleted, but the damage has been done and she was fired.
Article continues below advertisement
Writer, director and producer of the hit Fox TV show Brad Falchuk immediately blasted the budding starlet on Twitter basically telling her to take a hike and find a new job.
"Hope you're qualified to do something besides work in entertainment," Falchuk wrote.
"Who are you to spoil something talented people have spent months to create?"
If you're dying to find out what everyone was trying to keep a secret, Glee airs Tuesdays at 8/7c on Fox.