President Barack Obama Heading To Hollywood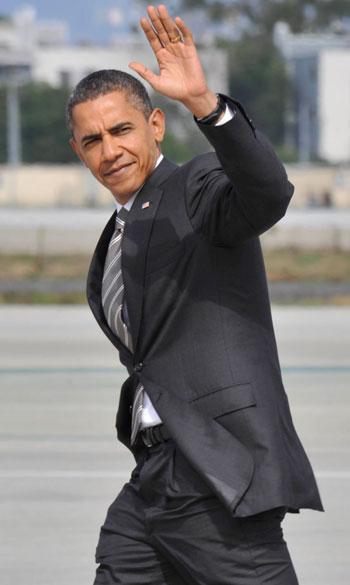 By Cliff Renfrew
Radar Staff Reporter
President Barack Obama is heading to star-studded Hollywood this week to try and rally the super-rich ahead of next year's general election.
Although Orange County Republican Marilyn Davenport likened him to a chimpanzee and California's most infamous imprisoned serial killer Charles Manson called him "an idiot" the President is not ready to turn his back on the Golden State quite yet.
Article continues below advertisement
President Obama will head off to the Sony Pictures Entertainment Studios in Culver City on Thursday for a back-lot rally with Oscar winner Jamie Foxx billed as 'a special guest'.
Ticket prices range from $100 to $2,500 for VIP seating inside the lot which can hold around 3,000 people.
Later on there will be an exclusive dinner at the Brentwood Tavern Restaurant with the President joining power-brokers like Jeffrey Katzenberg (Dreamworks CEO), Michael Lynton (Media Chief), Berry Gordy (Founder of Motown), and Elon Musk (Entrepreneur) and Russell Goldsmith (Bank Chief).