Imprisoned Serial Killer Charles Manson: 'Obama's An Idiot'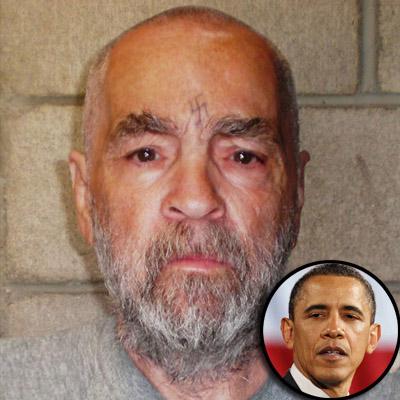 by Amber Goodhand
RadarOnline.com Staff Reporter
Serial killer and cult leader Charles Manson recently spoke out for the first time in 20 years, referring to himself as God and calling President Barack Obama "an idiot."
"I don't play. I shoot people," Manson told Vanity Fair Spain magazine in a rambling phone interview from his California prison cell. The interview marked the 40th anniversary of his conviction. "I'm too bad. I'm a mean guy. I'm an outlaw. I'm a criminal. I'm everything bad."
Article continues below advertisement
While Manson unsuccessfully asked Obama to set him free, the 76-year-old had some less than kind words for the Commander-in-Chief.
"I think Obama is an idiot for doing what he's doing," Manson said, referring to the Prez as a "slave of Wall Street." "They're playing with him."
Although Manson clearly had no respect for human life, killing at least seven people, he seems concerned about the environment, particularly global warming.
"Everyone's God, and if we don't wake up to that there's going to be no weather because our polar caps are melting because we're doing bad things to the atmosphere," said Manson, whose forehead is tattooed with a Nazi swastika. "If we don't change that as rapidly as I'm speaking to you now, if we don't put the green back on the planet and put the trees back that we've butchered, if we don't go to war against the problem..."
Article continues below advertisement
Manson was convicted in 1969 of conspiracy to commit eight murders, including the killing of Sharon Tate, the then-wife of director Roman Polanski. He was sentenced to die, which then got life in prison when California eliminated the state's death penalty three years later.
"You have to accept yourself as God," Manson continued. "You have to realize you're just the Devil just as much as you're God, that you're everything and nothing at all."