PHOTOS: X Factor: Simon's Got A Situation Cooking Up In New Jersey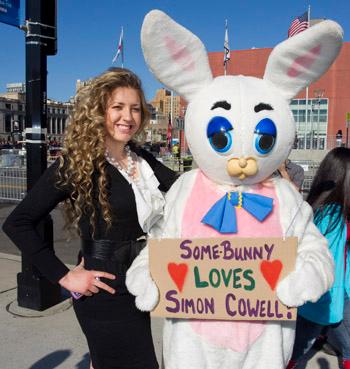 Turns out Snooki and The Situation aren't the only reality TV forces in New Jersey.
Simon Cowell's latest TV import, The X Factor, drew more than 20,000 hopefuls to The Prudential Center Thursday, all of them hoping for a chance to capture the show's grand prize: a $5 million recording contract.
Contestants gathered as early as 2 am ET to stand in line for the audition; by 9 am, show officials estimated the line spanned the space of two city streets.
Article continues below advertisement
"We see a lot of great New Jersey swagger out there and we are really excited about today," the show's executive producer Rob Wade said in a statement. "The turnout is fantastic."
As we previously reported, the criteria for the show's talent pool opens the door to a bigger group of hopefuls than Cowell's former show, American Idol, as musical groups are allowed to enter and the age limit starts at 12.
VIDEO & PHOTOS: American Idol Shocker! Pia Toscano Voted Off -- Crowd Boos, Judges Stunned
Nineteen-year-old Thatcher Iliff was among the hopefuls looking to become Jersey's next big reality star, brandishing a sign that read "Beyonce wishes she could sing like me."
"It's true," Iliff said of his bold statement. "She wishes she had that country feel I do."
Sarah Ross and Hailey Cullers, both 16, dressed up as cheerleaders and brought a sign picturing a shirtless Simon with the phrase, "Sexy Simon says, 'You both have the X Factor.'"
Article continues below advertisement