Tom Hanks, Jennifer Hudson & Even Snooki Shocked At Pia's Idol Elimination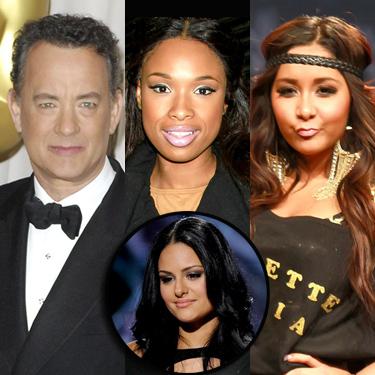 Pia Toscano's shocking American Idol elimination on Thursday send a shock wave through Hollywood, as stars from all spectrums of entertainment took to Twitter to express their frustration, disbelief and anger at the surprise ouster of the 22-year-old New Yorker.
Steven Tyler might have said it best, implying to reporters that Toscano's great looks and talents might have hit nerve with voters not wanting the girl with everything to have one more notch on her belt: "Guys aren't voting and girls are jealous."
Article continues below advertisement
More sentiments swirling from out in the Twitter-verse:
Snooki: Pia should have won the whole thing! I'm not watchin Idol anymore. I'm with JLO on this one...
Tom Hanks: Don't have an Idol habit, but how could the USA vote Pia off? I may be done for the season.
Dancing with the Stars' Chris Jericho: Pia is gone?!?!? How in the blue hell is that even possible? Terrible decision, but that leaves a clear path for James Durbin now...
Ashton Kutcher: Who are the people that vote on American Idol? That's just crazy! That Pia girl is dope. It's almost criminal.
Jennifer Hudson: I can not believe they just eliminated pia ! ReAlly..???? Long as she walked away with that voice she will be alright !! Just hate to see talent like that go!
Chris Daughtry: What the crap? I thought Pia was THE best singer on the show this year!
Ellen DeGeneres: I am shocked and so sad.
Article continues below advertisement
Marlon Wayans: Pia eliminated not fair! Who do the teens expletive off to now? Dammit life's not fair... Well kids, there's always j-lo
The remaining eight contestants in this year's competition include boys Casey Abrams, Scotty McCreery, James Durbin, Jacob Lusk, Stefano Langone and Paul McDonald; and girls Lauren Alaina and Haley Reinhart.
American Idol returns next Wednesday on Fox at 8/7c.
RELATED STORIES: