PHOTOS: True Blood Vampire Stephen Moyer Flips Car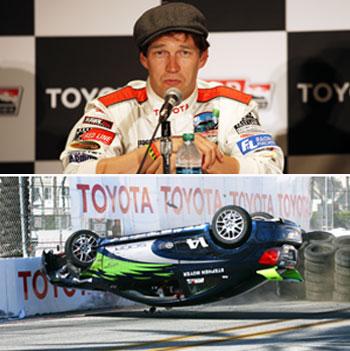 True Blood star Stephen Moyer flipped his car while driving in the Long Beach Grand Prix on Friday afternoon, but he walked away without a scratch.
Moyer, 41, reportedly spent the night on the True Blood set working until 6am Friday morning and went straight to the race track for the Toyota Pro/Celebrity Race. After an hour of sleep and a quick power nap during the lunch break, the actor flipped his car on the track.
Article continues below advertisement
He got out unscathed and even won the People Pole Position Award and earned $15,000 for his chosen charity Facing the Atlantic.
"I feel like a little kid with a toy race-car! I've always loved racing. I played with toy cars as a kid. I just don't want to go home!" Moyer told a blog about participating in the race.
Moyer married his True Blood co-star Anna Paquin in August 2010.
RELATED STORIES:
EXCLUSIVE: Anna Paquin & Stephen Moyer Auction True Blood Script For Struggling Orphans