PHOTOS: Stephen Moyer Vamps It Up In Sexy New Magazine Spread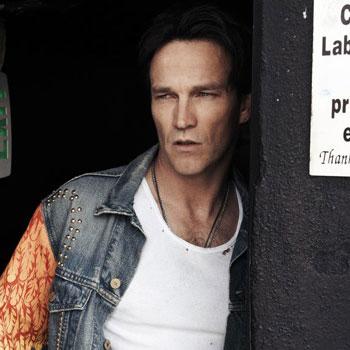 Stephen Moyer has skyrocketed to success since True Blood debuted on HBO in 2008. Married to his gorgeous costar (child star-turned-bombshell Anna
Paquin) the Brit import, who has three new films in the works, recently opened up to BULLETT Magazine and engaged in a super sexy Velvet Goldmine themed photoshoot and RadarOnline.com has the photos, as well as the highlights from his candid interview.
The 41-year-old actor who portrays 173-year-old vampire Bill Compton, was shot by photographer Kurt Iswarienko, styled by Jenny Ricker and groomed by Kim Verbeck at the famed Viper Room in Hollywood, for the cinematic spread, which he collaborated on.
Article continues below advertisement
Throughout the interview, Moyer candidly opened up to the new magazine about his personal and professional life.
The star, who never thought he would get married, explains why he changed his tone upon meeting Paquin.
"It wasn't something that I ever wanted to do," he admitted.
"And then suddenly, in this relationship with Anna, I just couldn't think of a good enough reason not to. It just felt right. When you meet somebody you're going to be spending the rest of your life with, it doesn't seem right to call them your girlfriend forever. I fully intend for us to be together forever, so I felt like I needed to be able to call her something else. So now I can shout "wife" quite happily."
How does he feel about Anna's steamy scenes with other True Blood hunks?
"There are a couple of times when you see your partner acting in love with someone, and that touches some funny buttons, obviously," Moyer reveals.
"It's bound to."
Moyer, who has a son who lives in London, and a daughter who lives in Los Angeles, does not allow his children to watch his hit show. The actor experienced a bit of a shock recently, when someone asked him to poise for a picture with their eight year-old daughter‹who was already a fan of his show!
Article continues below advertisement