PHOTOS: The Tallest & Sexiest Bikini Babes On The Beach!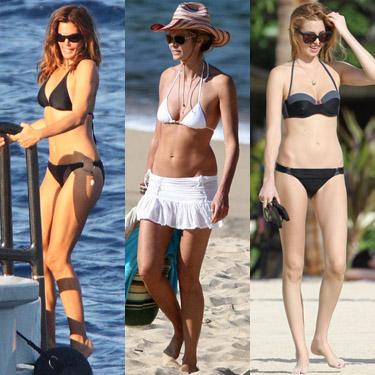 With their elongated limbs and flawless faces, these smoking hot stars always stand out when they strip down into their skimpy bikinis! RadarOnline.com has photos of the sexiest and tallest glasses of water in Tinseltown, showing off their gorgeous bods in the barely there bikinis. Click the next sentence to see the tallest and sexiest bikini babes on the beach.
Click Here To See The Tallest & Sexiest Bikini Babes On The Beach!
Article continues below advertisement
With her stunning looks and her fat-free 5 feet 10 inches of pure hotness Academy Award winner Gwyneth Paltrow could have easily been a supermodel. The beautiful blonde is one of the tallest leading ladies in Hollywood and loves showing off her legs-for-miles in the sexiest of mini dresses -- and the skimpiest bikinis!
Click Here To See Gwyneth Paltrow's Gorgeous Gams In Her Bikini
Paris Hilton and Kate Beckinsale don't let their 5-foot 8-inch frames keep them away from wearing the sexiest stilettos. While swimsuit siren Paris even has her own Paris Hilton heel line, Underworld babe Kate wears her sky-high heels with her bikini on the beach.
Article continues below advertisement