PHOTOS: 'Super Frustrated' Justin Bieber Vents -- On The Basketball Court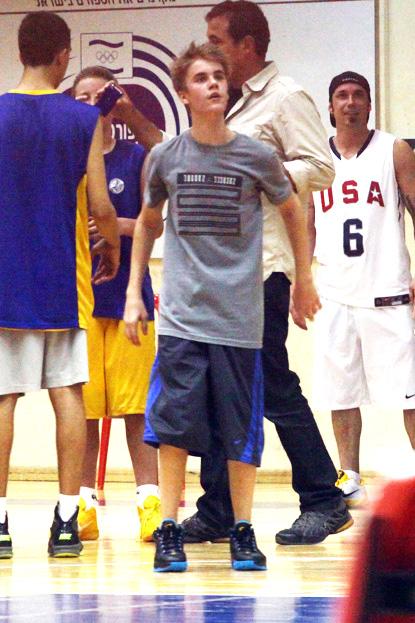 Justin Bieber -- who has described himself as "super frustrated" while in The Holy Land -- let out his frustration by playing a little basketball in Shoam, Israel with some local children.
The 17-year-old Canadian pop sensation -- who repeatedly lashed out at paparazzi this week via Twitter about his lack of privacy in the Middle East -- performs in Tel Aviv, Israel on Thursday.
Although his latest tweet says "patience is a virtue," Bieber has had a difficult time controlling his emotions while in Israel due to his lack of privacy.
Article continues below advertisement
On Tuesday, Bieber tweeted: "I want to see this country and all the places ive dreamed of and whether its the paps or being pulled into politics its been frustrating....
"Been super frustrated and just needed some time to vent and chill...
"It's not the fans, and some of the paps were nice enough to leave. But some people just don't have respect...
"You would think paparazzi would have some respect in holy places. All I wanted was the chance to walk where jesus did here in isreal."
A day earlier -- on Monday -- Bieber tweeted that he was "in the holy land and i am grateful for that. I just want to have the same personal experience that others have here." He had also told followers, "I just wish got a little more space and privacy from the paps to enjoy this time with my family."
Bieber later posted that he was going to "take a little break from twitter and enjoy this time with my family."