PHOTOS: Stars Slime It Up At Kids' Choice Awards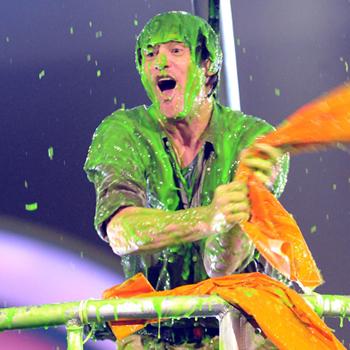 Saturday night's 2011 Nickelodeon Kids' Choice Awards pulled in the biggest names in Hollywood, and many of them ended up covered in the show's famous green slime. RadarOnline.com has the photo proof.
Jim Carrey and Transformers star Josh Duhamel ended up drenched in the stuff. So did host Jack Black and presenter Heidi Klum.
Snoop Dogg, who had been rumored would be participating in Charlie Sheen's show, stuck with the kids instead. He got slimed from head to toe but that was still better than being part of the disaster in Detroit.
Article continues below advertisement
Johnny Depp took control of the slime hose and laid it on the first several rows in the audience. The kids loved it!
Justin Timberlake, Selena Gomez, Miley Cyrus, Joe Jonas, Will Smith with his kids Willow and Jaden, Russell Brand and Jane Lynch were also part of the fun.
It all took place on the USC campus in Los Angeles.
RELATED STORIES: