PHOTOS: Back On AGAIN? Kellan Lutz and AnnaLynne McCord Jet Out Of LAX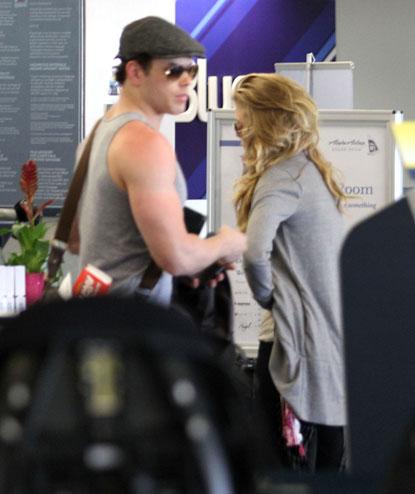 by Radar Staff Reporter
Are these two the modern day Elizabeth Taylor and Richard Burton?!
On-again-off-again-on-again thespian couple Kellan Lutz and AnnaLynne McCord appear to be back on again — for now!
The Twilight hunk and 90210 hottie were spotted going through security at LAX airport Tuesday before catching a flight to Vancouver where Lutz is finishing off filming for Breaking Dawn, the final movie in the hugely popular Twilight franchise.
Article continues below advertisement
The pair were nicely color coordinated with Lutz in a gray vest and sweats and McCord in a gray cardigan -- and both were sporting Hollywood standard issue sunglasses.
The two have enjoyed a volatile relationship, to say the least, since they first started dating over two years ago, with more ups and downs than the average roller coaster.
They were first spotted kissing each other on Valentines day 2009 in New York, but both vehemently denied a relationship.